Indonesia

Português

Tiếng Việt

ไทย

العربية

हिन्दी

简体中文

Nederlands

Français

Deutsch

हिन्दी

Italiano

한국어

Melayu

Norsk bokmål

Русский

Español

Svenska

Tamil

Türkçe

Zulu
What is a perfect trading system? What do we need to do to get it? The answer for those who are still searching for the "holy grail" is that no system is perfect. There are only "suitable" trading system.
Why is there no perfection? Because you or your life are not perfect. So how can you demand perfection from a "product" of your own making?
Remember yourself as the best piece of the puzzle, customized to fit all. When you understand this, you will change your perspective in trading. The most effective trading system is in your mind. The right mindset is the core of every successful trade.
"The method that can make you lucky to win a battle. The right mindset helps you win a war."
Register IQ Option and Get Free $10,000 Risk warning: Your capital might be at risk.
Build a set of principles in your trading system to follow
Principle is the crystallization of emotions. The principle helps you keep your money but also avoid unnecessary worry. Each job needs a different set of principles to "fit" for each person.
You must develop your own set of rules. Because each individual's mentality is different.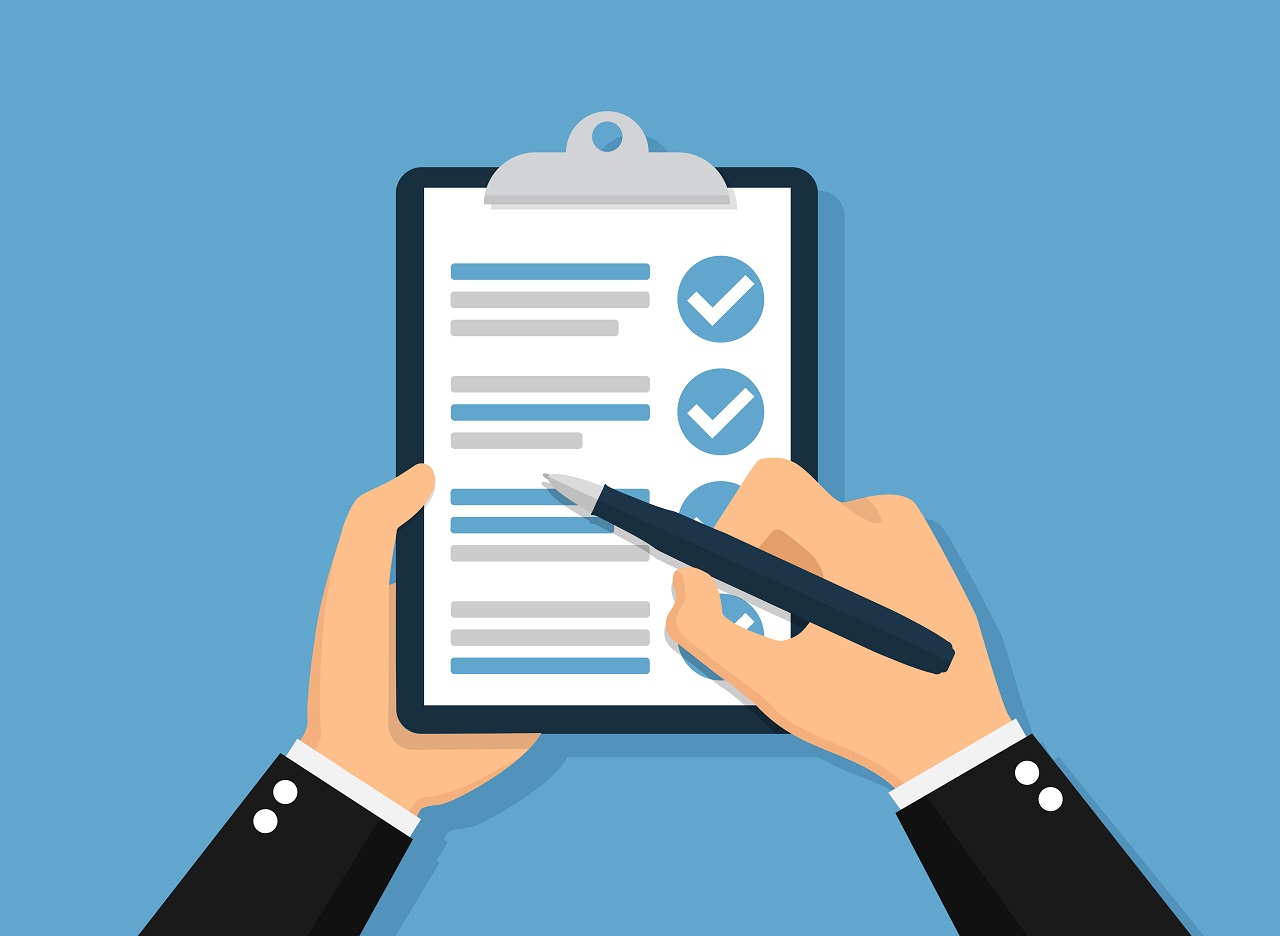 I have a set of rules to stay with the market for a long time
– Each order has the maximum risk allowed is 2% of the total account.
– Do not open more than 3 trading orders at a time in many different currency pairs. Because may focus will be scattered.
– When the loss of the day reaches 10%, stop trading. Because at this point, I will lose control of my mind and turn to gambling psychology.
– Absolutely do not trade when I have emotions problems such as too happy or too sad….
Indicators for trading system
Your system needs indicators with the following criteria:
Simplicity: This is the pinnacle of complexity. The simpler the indicators are the more effective your system will become.
Ease of use: A method is considered good when anyone can use it, even a novice. This means it has the ability to "copy and apply" in many different markets.
Trading diary
Don't listen and trust anyone. Just trust your trading system. Learn the habit of taking notes and summarizing the lesson. Let's ask the following questions after each trade.
Why did this order win?
Why did that one lose?
Is entering an order like that in accordance with my principles?
Why not enter that order?
Remember to draw conclusions and learn from experience for the next orders.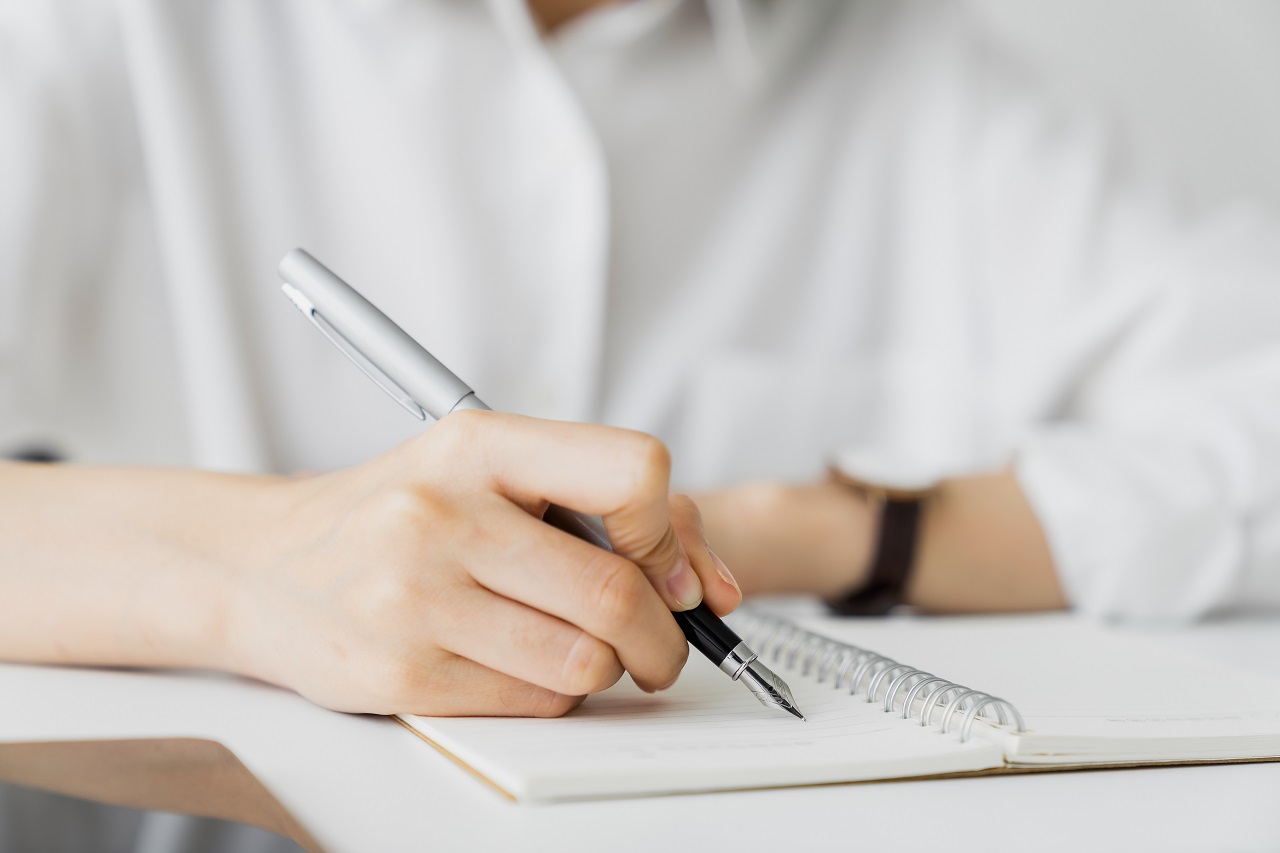 Review the trading system with 3 RSI indicators in IQ Option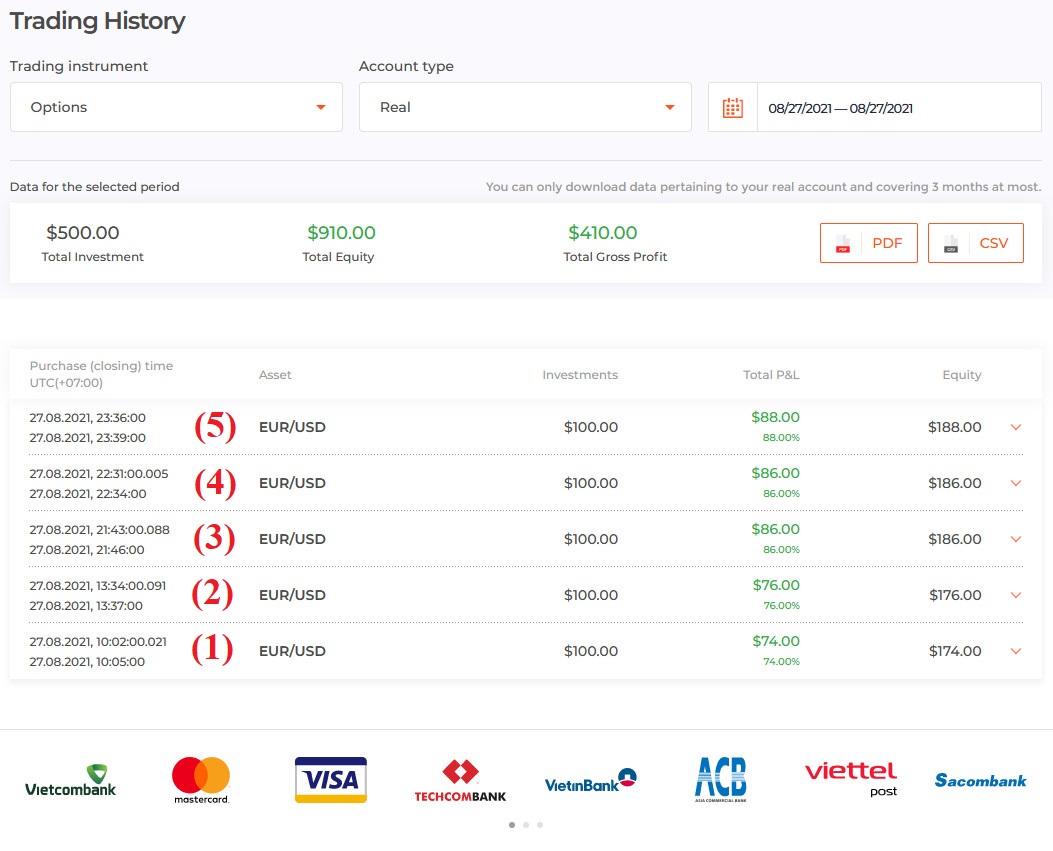 Order 1: The price started to reverse from downtrend to uptrend. The RSI 7, 14, 21 cut the 30 line from below unequivocally. The conditions has met to open a HIGHER order wit the expiration time of 3 minutes.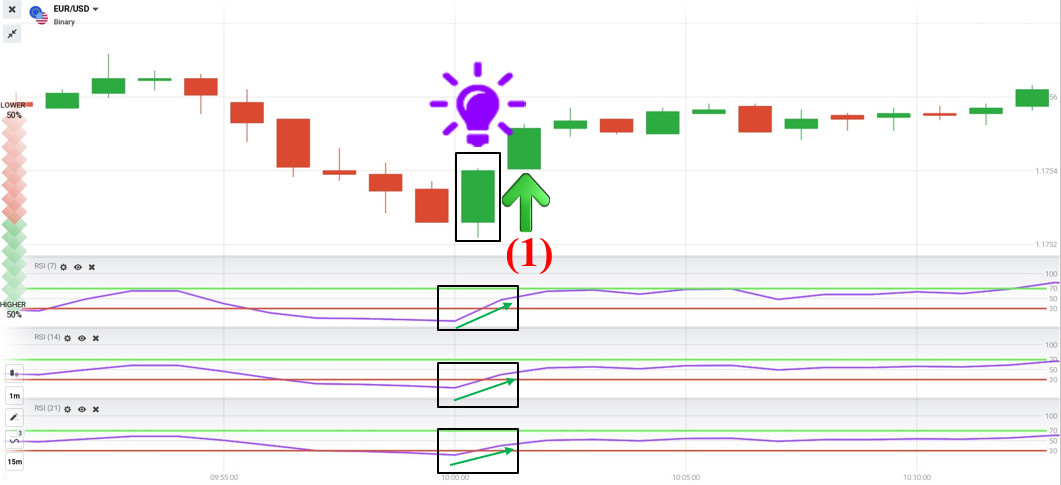 Order 2: The price fell and the RSI of 7, 14, 21 crossed the 70 from above. Opened a LOWER order as soon as those signals appeared.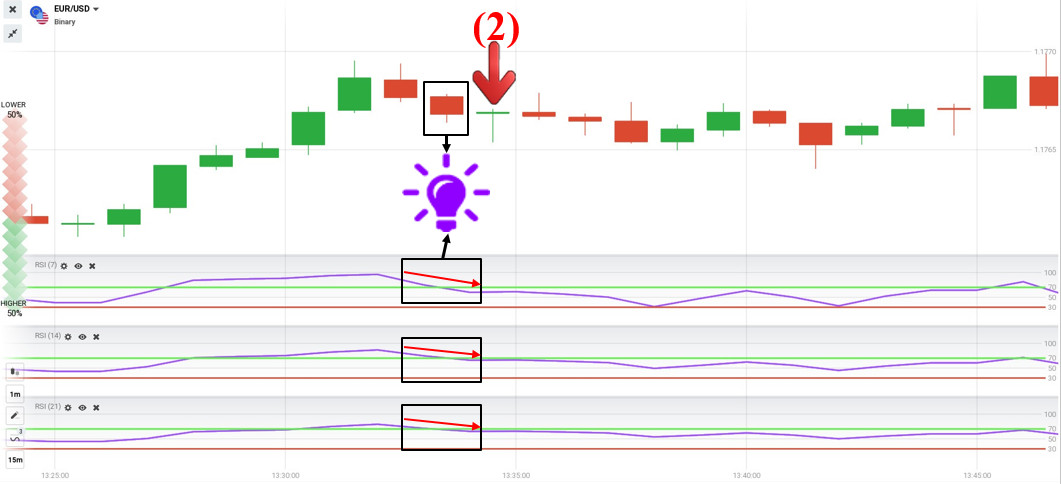 Order 3: The RSI 7 and 14 cut the 70 from above. There was a high probability that the price would decrease in the next few candlesticks => Opened a LOWER order.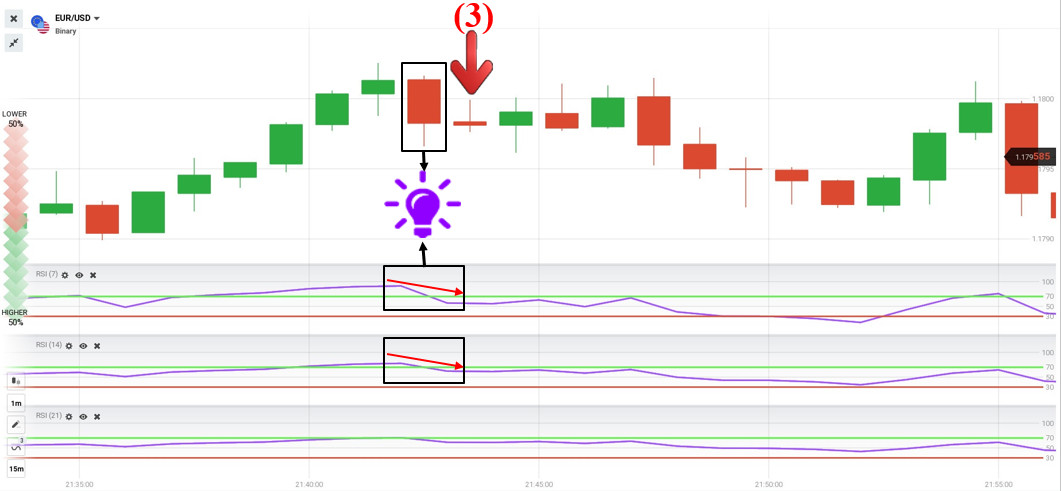 Order 4: The price was falling then a long green candlestick suddenly appeared. It caused the RSI 7 and 14 to cut the 30 from below => Opened a HIGHER order.
Order 5: Price fell + the RSI 7, 14, 21 crossed the 70 from above = Entered a LOWER order.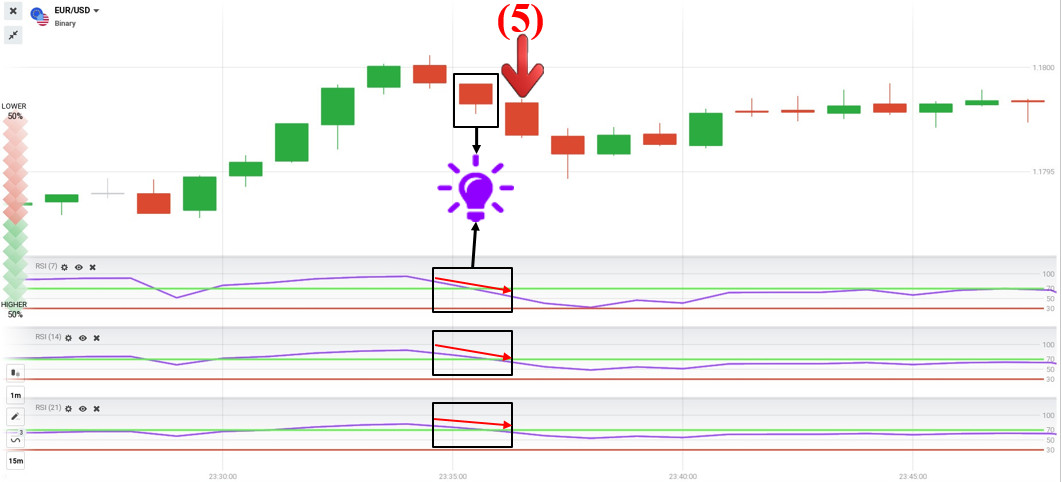 To conclude
Finding a suitable trading system is not easy at all. Thus, there are a small number of successful traders compared with the losing ones.
If you don't want to be a lousy trader, start to build yourself a trading system with the suggestions in this article. Remember to test it on the demo account before trading with your real money.
Register IQ Option and Get Free $10,000 Risk warning: Your capital might be at risk.

Indonesia

Português

Tiếng Việt

ไทย

العربية

हिन्दी

简体中文

Nederlands

Français

Deutsch

हिन्दी

Italiano

한국어

Melayu

Norsk bokmål

Русский

Español

Svenska

Tamil

Türkçe

Zulu