Indonesia

Português

Tiếng Việt

ไทย

العربية

हिन्दी

简体中文

Nederlands

Français

Deutsch

हिन्दी

Italiano

한국어

Melayu

Norsk bokmål

Русский

Español

Svenska

Tamil

Türkçe

Zulu
Simple or complex is an eternal topic that is always hotly discussed in forums about IQ Option trading strategies. With a simple method, you will easily grasp it even if you are a newbie. On the contrary, with a complicated strategy, you need more settings and more conditions to be satisfied to increase the winning rate of a trade to the highest. In this article, I will share an unbeatable but somewhat complicated trading strategy that is set up by 4 basic technical indicators providing extremely high accuracy.
Register IQ Option and Get Free $10,000 Risk warning: Your capital might be at risk.
Unbeatable trading strategy with 4 technical indicators
A strategy with 4 indicators on the price chart sounds cumbersome, right? But in return, your entry information will be highly reliable when going through a filter consisting of 4 indicators.
Exponential Moving Average 5 – EMA5
Exponential Moving Average 10 – EMA10
Default Relative Strength Indicator (RSI)
Default Stochastic Oscillator (Stochastic)
After setting up the above indicators, we will have the following chart.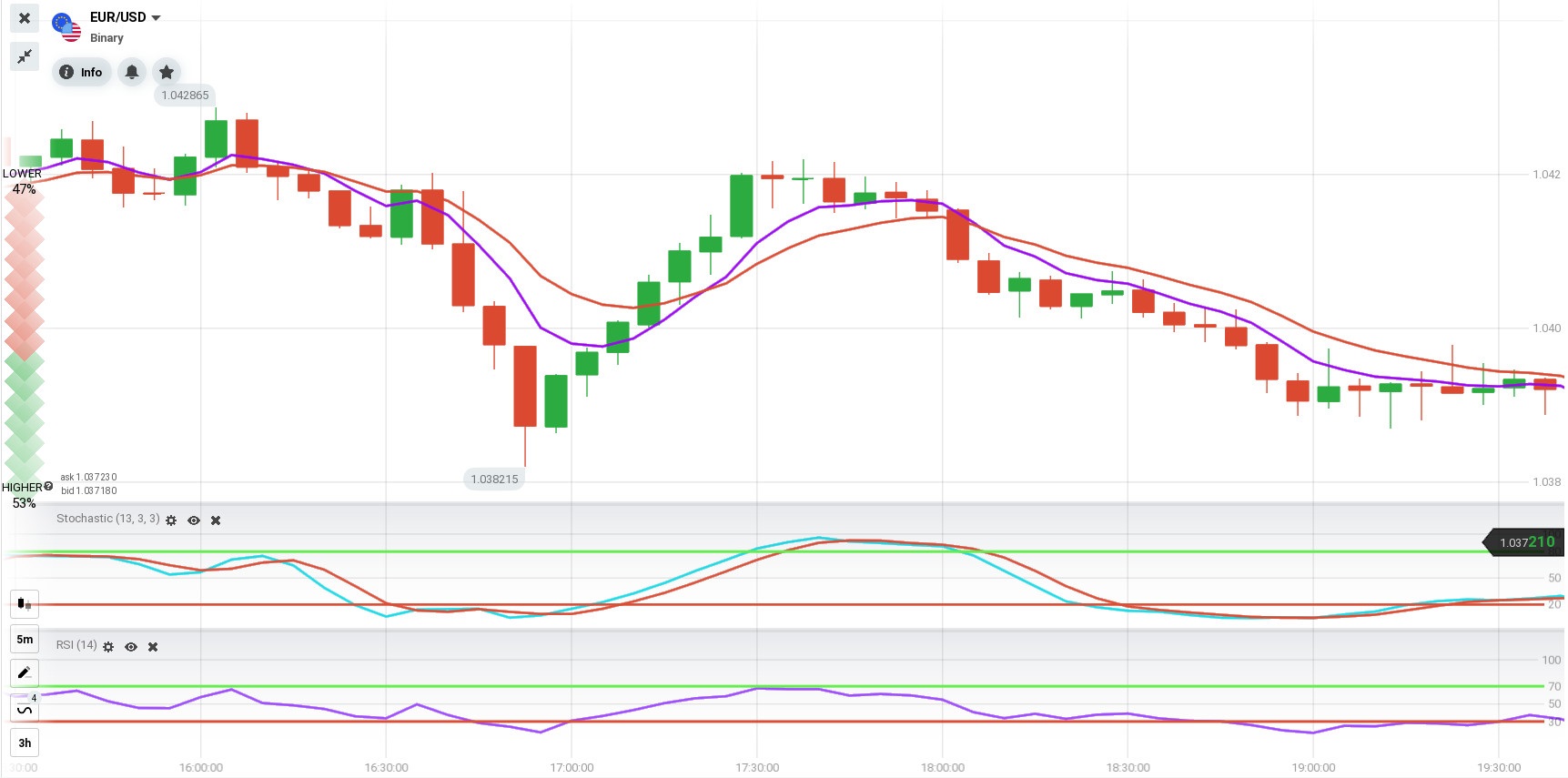 In which, EMA5 (purple) and EMA10 (red) are the crossover signal points to enter orders. The RSI indicator determines which level the price area is to place the most reasonable order. Finally, Stochastic is considered a sign of a strong continuation trend. After combining those data, we will have the answer (HIGHER or LOWER).
How to enter an order with this trading strategy
Before going to the conditions, you need to know the principles of this unbeatable trading strategy as follows.
It is recommended to trade major currency pairs such as EUR/USD, GBP/USD, AUD/USD, etc.
Trading time should be the next 3-5 candles. If you are looking at the 5-minute candlestick chart, place orders from 15-25 minutes, preferably the 5-minute chart.
Do not trade within 60 minutes before and after the news release
Should trade in the European session or the American session.
We will enter a HIGHER order when the EMA5 cuts the EMA10 from below. At the same time, the RSI must be above the 50 and the Stochastic must cross the 20 from below.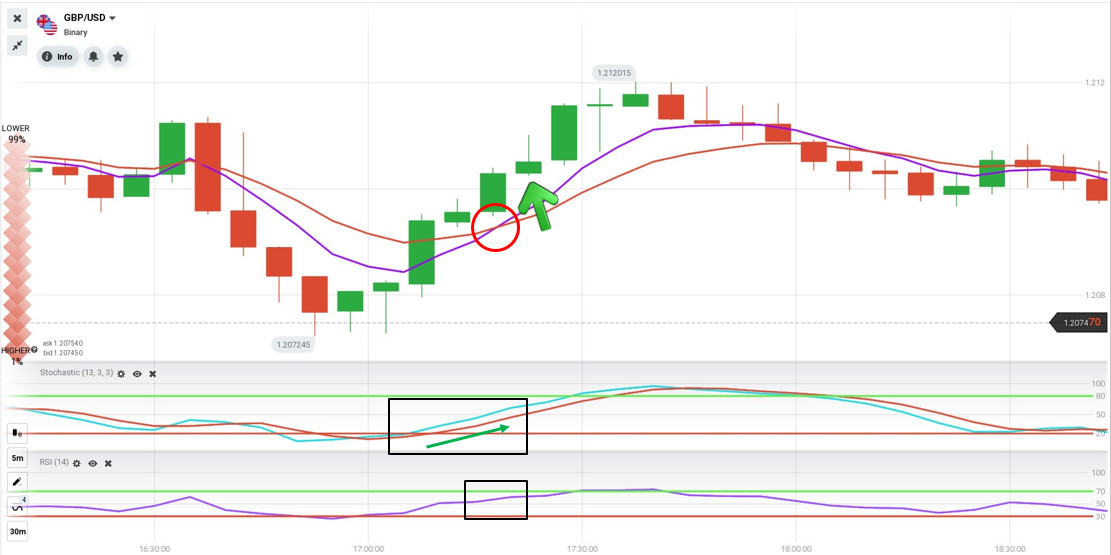 As for the LOWER order, we will wait for the EMA5 to cut the EMA10 from above. At the same time, the RSI is below the 50 and the Stochastic crosses the 80 from above.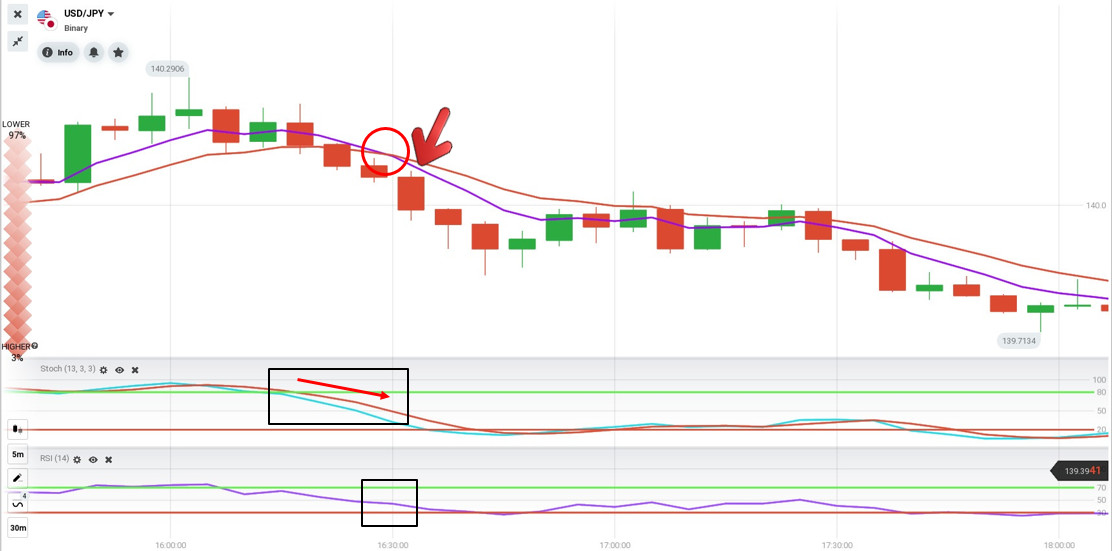 Note: Do not open orders when RSI is at overbought or oversold because the price can easily reverse making your prediction incorrect.
Summary
The strategy part also has only a few rules and conditions to enter an order. According to my statistics in the last 6 months, the win rate is quite high up to 80%. To make the most of that, we should use the Classic capital management method. If you use $100 for 10 orders ($10 per order), it will help you earn more than 30% profit, a very good rate in trading.
Try trading on a Demo account to see how beneficial this unbeatable strategy is. Maybe it will be a tool to help you succeed when trading in IQ Option. Good luck.
Register IQ Option and Get Free $10,000 Risk warning: Your capital might be at risk.

Indonesia

Português

Tiếng Việt

ไทย

العربية

हिन्दी

简体中文

Nederlands

Français

Deutsch

हिन्दी

Italiano

한국어

Melayu

Norsk bokmål

Русский

Español

Svenska

Tamil

Türkçe

Zulu