Indonesia

Português

Tiếng Việt

ไทย

العربية

हिन्दी

简体中文

Nederlands

Français

Deutsch

हिन्दी

Italiano

한국어

Melayu

Norsk bokmål

Русский

Español

Svenska

Tamil

Türkçe

Zulu
Relative Strength Index (RSI) is not only a good trend indicator but also a very accurate reversal signal detector. In this article, I will continue to share a unique feature of RSI, which is used for the reversal trading strategy to find potential entry points in IQ Option.
Register IQ Option and Get Free $10,000 Risk warning: Your capital might be at risk.
Reversal trading method based on the RSI indicator
Usually traders only use one RSI indicator to find entry points. It would be better to use other RSI settings to give a more detailed view. So I build a highly secure reversal trading strategy using 3 RSI indicators with different settings included 7, 14 and 21.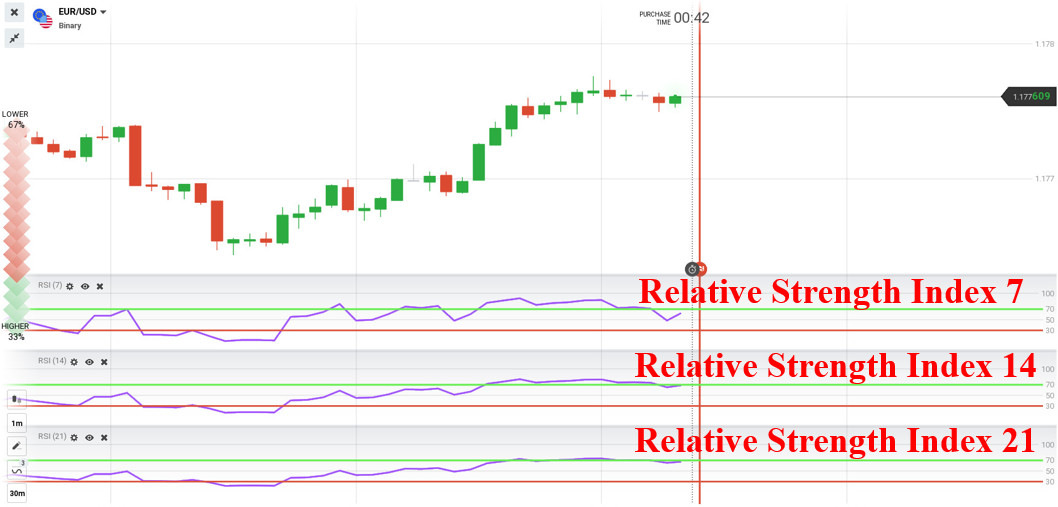 With an interface like the one above you will have more information about the reversal zone. From there, you can make reasonable decisions to enter a trade or not.
How to set up the reversal trading strategy with 3 RSI indicators
To set up this strategy, first, go to the indicator, select Popular and then click on Relative Strength Index. Repeat 2 more times to have 3 RSI indicators.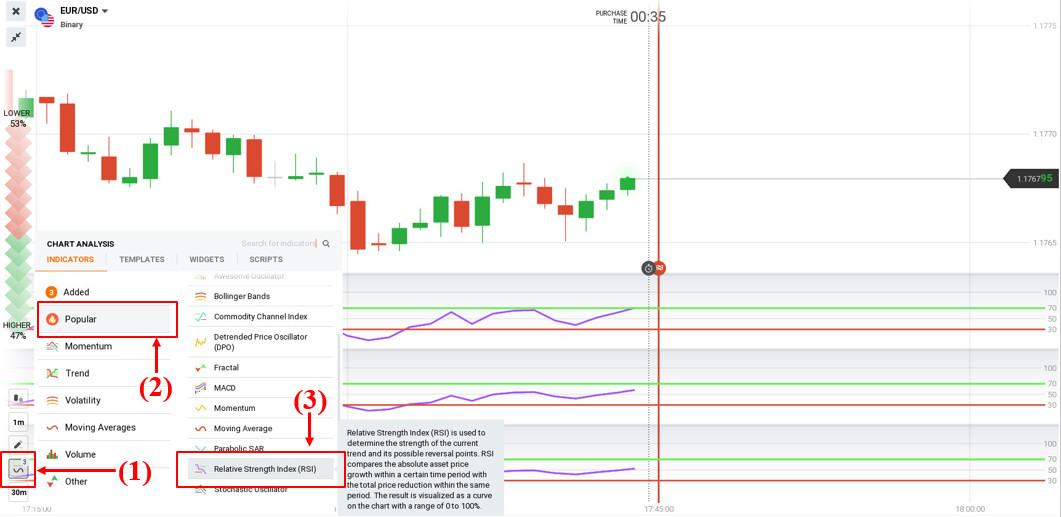 After that, change the value of the Base line – Period respectively to 7, 14, 21.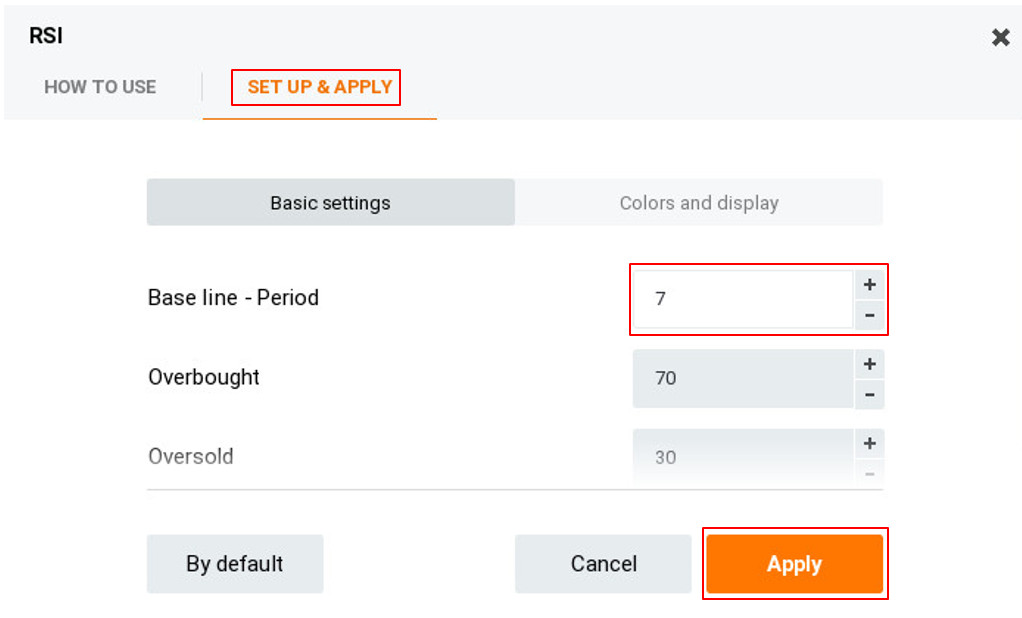 How to open a reversal trade
With this reversal strategy, we need to focus on observing when the price enters the overbought (above 70) and oversold (below 30) zones to find an entry point. We need to satisfy the following 2 conditions to open an order with 3 RSI indicators strategy.
Open a HIGHER order when 2 out of 3 RSI indicators move upwards from below the 30 (oversold zone).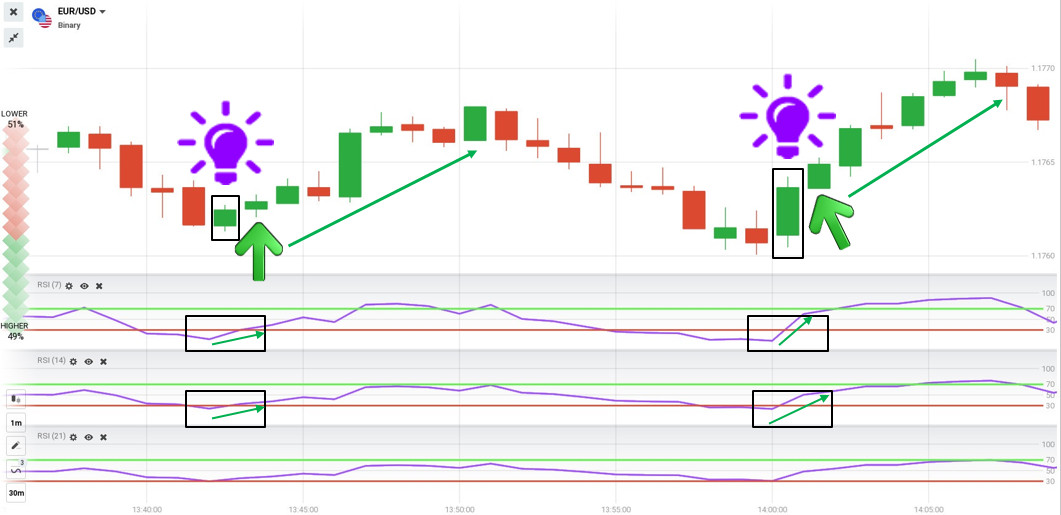 Open a LOWER order when 2 out of 3 RSI indicators move downwards from above the 70 (overbought zone).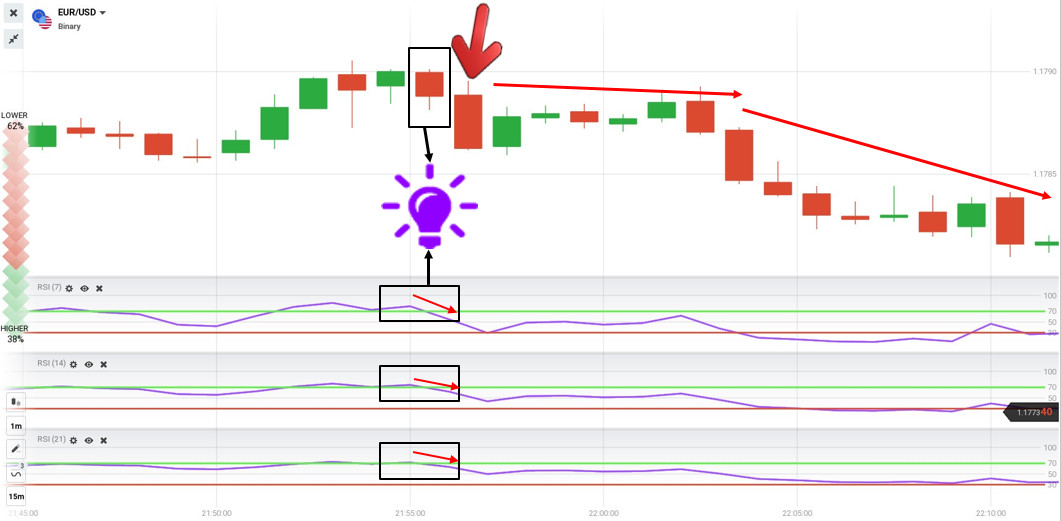 How to manage capital properly
For reversal trading strategies, I prefer the Martingale capital management. However, you should only use it for a maximum of 3 orders per cycle because your capital is not endless. A continuous loss from 4 to 6 orders can burn your account to ashes. If you lose 1 cycle, that's enough for one day. Stop trading, turn off the screen and do something else.

For example, you have a total capital of $100. The first order you will invest the amount of $15. If you lose, you will raise the order 2 to $25. When you lose again, continue to enter the 3rd trade with $60. If you win, you will return to the initial level of 15
Note: If you win at any order, return to the 1st order amount.
In conclusion
This is a reversal trading strategy improved from 1 to 3 RSI indicator. It helps you identify the overbought and oversold zones as quickly as possible to make safe trading decisions.
If you are still using a single RSI indicator to spot reversal points, upgrade it immediately after reading this article. Don't forget to test it on a demo account before using in real trading.
Register IQ Option and Get Free $10,000 Risk warning: Your capital might be at risk.

Indonesia

Português

Tiếng Việt

ไทย

العربية

हिन्दी

简体中文

Nederlands

Français

Deutsch

हिन्दी

Italiano

한국어

Melayu

Norsk bokmål

Русский

Español

Svenska

Tamil

Türkçe

Zulu