The harshness of the market will eliminate traders with poor trading results. You will be kicked out of the financial game without an effective money-making strategy. This article will review how to trade using the Alligator indicator that helped me earn $536 from IQ Option. And I believe it will help your survival and your success a lot easier.
Review trading orders using the Alligator indicator in IQ Option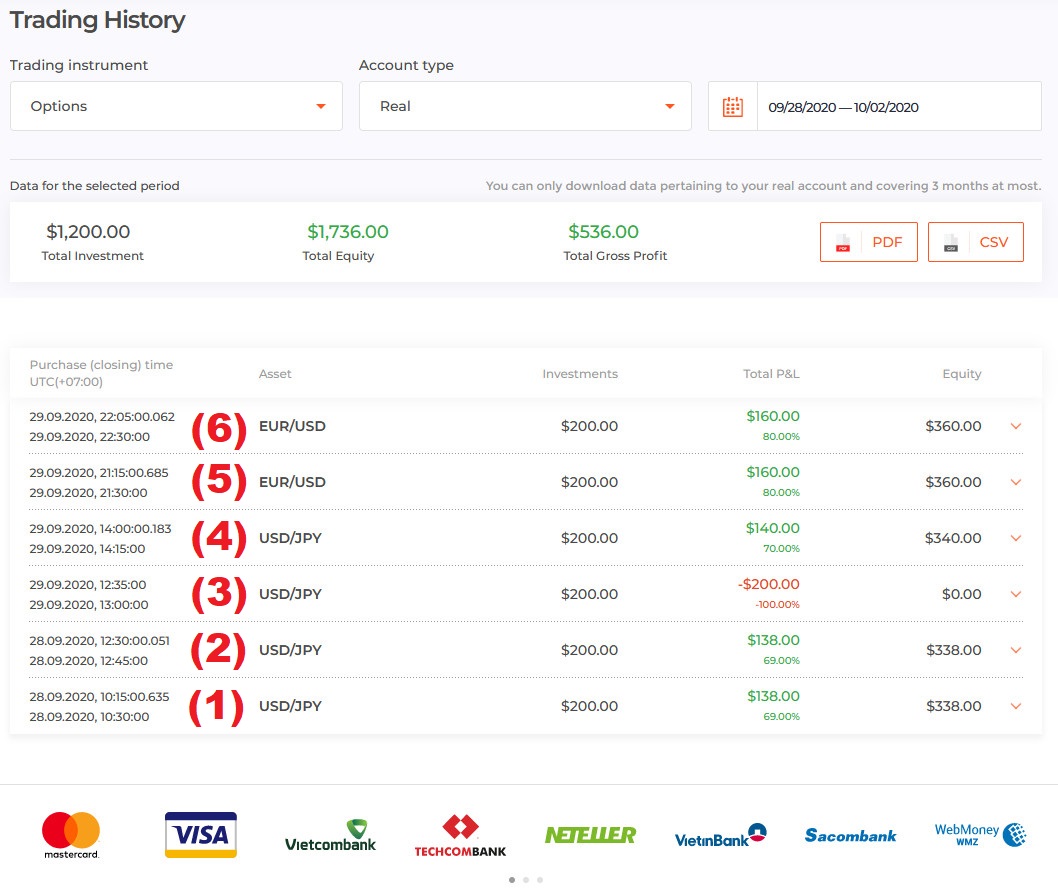 How to open an order with the Alligator indicator:
Open HIGHER orders when: the alligator jaw opens upward (uptrend) and the price tests the support.
Open LOWER orders when: the alligator jaw faces downwards (downtrend) and hits the resistance.
1st order: It was a downtrend. Opened a LOWER order when the price hit the resistance zone. The expiration time was 15 minutes.
2nd order: It was a downtrend. Opened a LOWER order following the trend when the price entered the resistance zone. The expiration time was 15 minutes. After opening the order, the Evening Star candlestick pattern appeared to continue the decline. Because of this, I definitely had a very high win rate.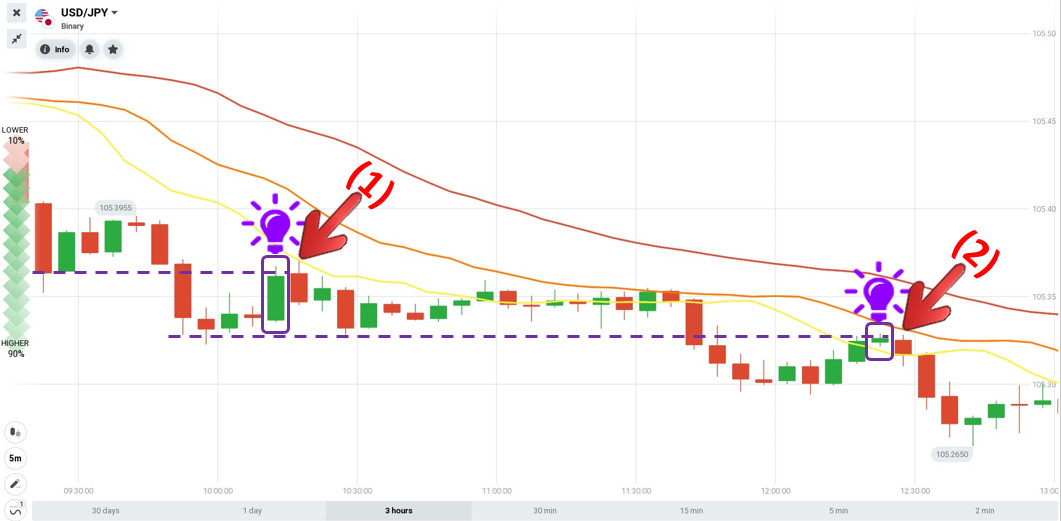 3rd order: It was an uptrend. Opened a HIGHER order when the price tested the support zone. The expiration time was 25 minutes.
4th order: It was an uptrend. Opened a HIGHER order when the price tested the support with a Hanging Man candlestick. The expiration time was 15 minutes.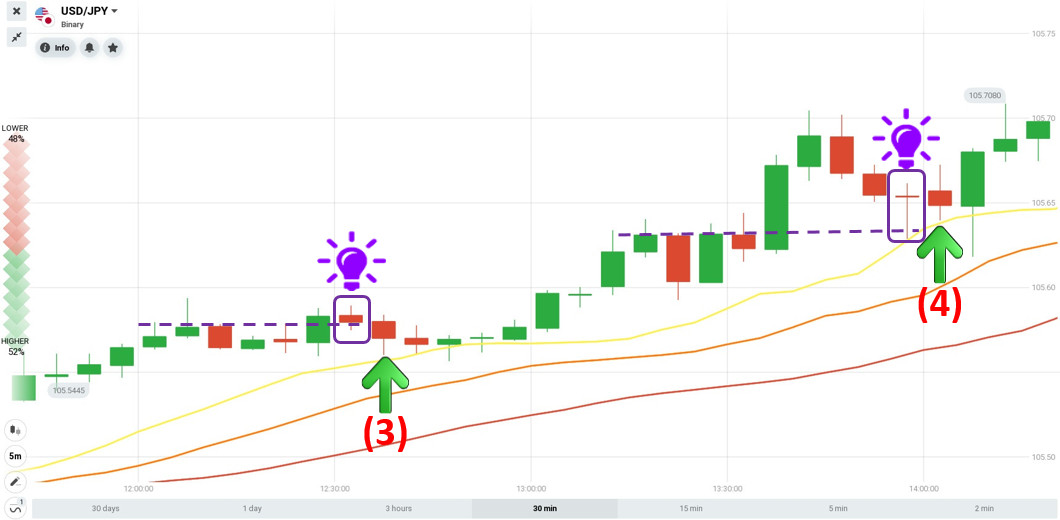 5th order: It was an uptrend. The price tested the support. Opened a HIGHER order right there with a 15-minute expiration time.
6th order: The trend was up. Prices retested the support zone for the second time. Continued to open a HIGHER order with an expiration time of 25 minutes.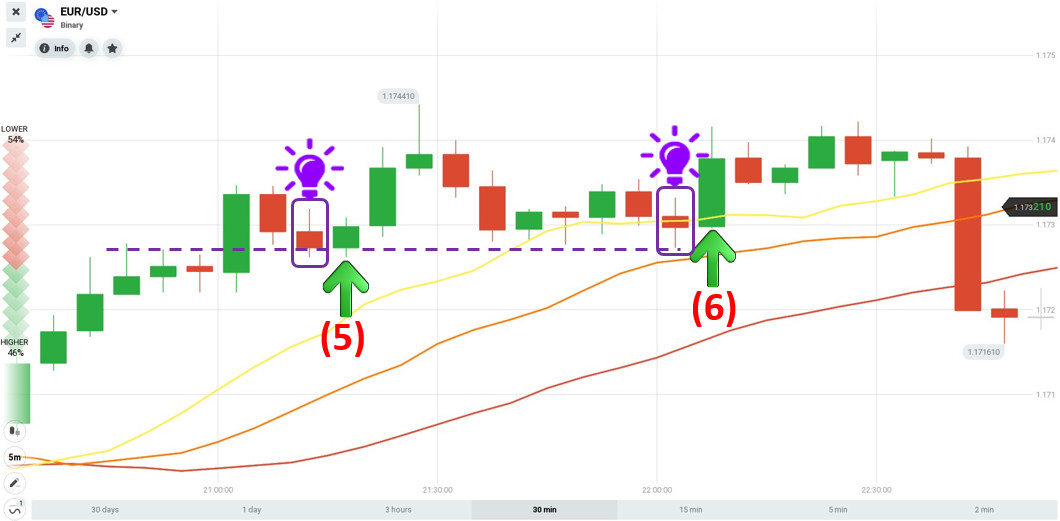 Alligator is an indicator biased towards price trend
Trading strategies using the Alligator indicator in IQ Option is a type of trading that seizes opportunities to gain profits through analyzing the growth momentum of an asset in an up or down direction.
Depending on the type of trend, traders will have different strategies. Or they can also combine it with indicators to bring the best results. But basically, traders will open a HIGHER order during an uptrend, and vice versa, a LOWER order in a downtrend.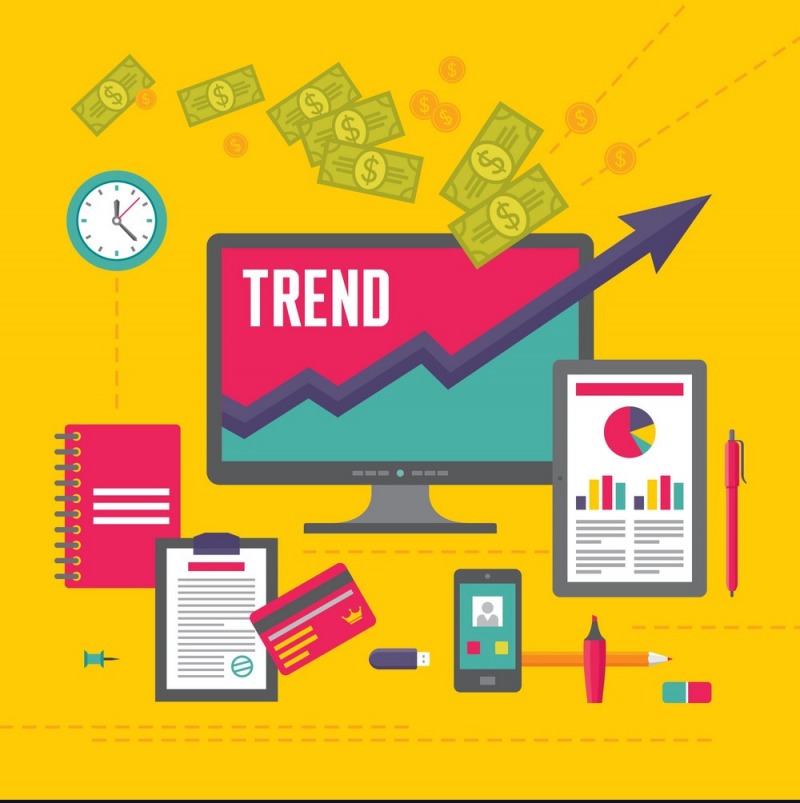 Trying to predict future trends is a challenge for all traders. However, current trends can be identified quite easily. Experience shows that while there is no guarantee, the probability of success is often greater if you take advantage of an existing market trend instead of trying to predict a new trend.
Through the statistics, the Alligator indicator is very effective for trend trading. It helps investors to recognize trend formation and reversal as quickly as possible. From there, they can make a strategy to make money from IQ Option in a reasonable way.
Things to know when trading following the trend using the Alligator indicator
The trend is a friend. This has long been an undisputed truth. But the thing worth mentioning here is when it is no longer a friend. If this friend doesn't really help us, what will happen? Those are the issues that you need to keep in mind. In fact, traders often rely on the trend. The result of relying on is a loss caused by the "friend" that we trust.
Perhaps, this article will face a lot of doubts and criticism from some traders, especially trend traders. I am a trend trader, but not always. There are times when it's not your friend. That's something we need to be aware of.
Need to understand the nature of the trend
You may think that the price increase means HIGHER orders, the price decrease means LOWER orders, and assume that the price increase/decrease is a trend. An uptrend and up prices are two completely different things. Because in an uptrend, prices can also fall.
If you see the price rising during an uptrend, that's a good signal. However, it's only good when you have already placed an order. But if you open an order only after the price has increased, sometimes you are one step late.
Hence your order is riskier than those of traders who have opened a HIGHER order before. As a result, a HIGHER order in an uptrend is still not as effective as expected.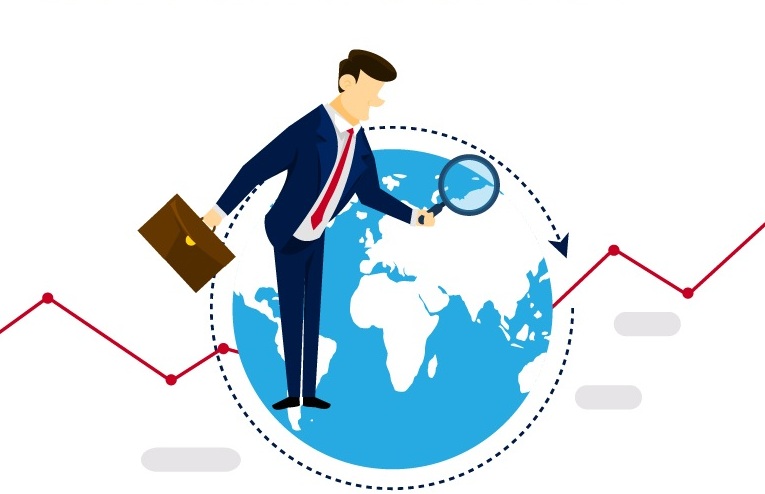 The market has countless unpredictable fluctuations. The price is now increasing but it may be just a temporary upward adjustment in a downtrend. Therefore, it cannot be assumed that the price increase is an uptrend.
Avoid FOMO psychology
FOMO stands for Fear Of Missing Out which is also known as the fear of losing opportunities. FOMO is the psychology of traders that when they see prices rise too high, they are excited to buy along because they think that the price will go up further. But often, the reality is completely against the wishes of traders. When the price is too high, especially in an uptrend, it is a sign that the market is about to peak and reverse the trend. Times like that are opportunities for the sellers to start getting in.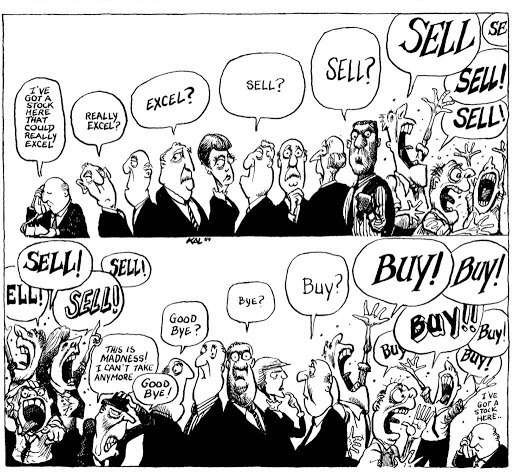 Cannot properly identify a trend
In fact, identifying the correct trend is very important. Because if you are still confused about it, it means that you do not know whether it should be HIGHER or LOWER. The market is sometimes very easy for us to identify the trend. However, sometimes, it is extremely complex causing traders to misidentify.
Lack of skills and experience
If you do not get into all 3 reasons above but still fail, then you may be caught in the 4th reason for choosing inappropriate entry points.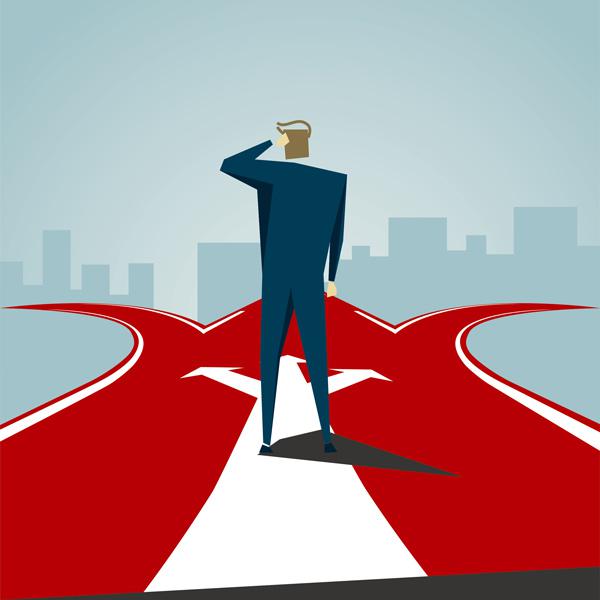 Everyone surely agrees with me that it's not possible for every single HIGHER order to be profitable in an uptrend. Some people still think that if we open HIGHER orders in an uptrend, we will make profits more or less.
But life is ironic, after opening HIGHER orders, the price adjusts downward. Just after losing the order, the price continues going up as before. Therefore, the entry point is also very important. It greatly affects the trading results.
In conclusion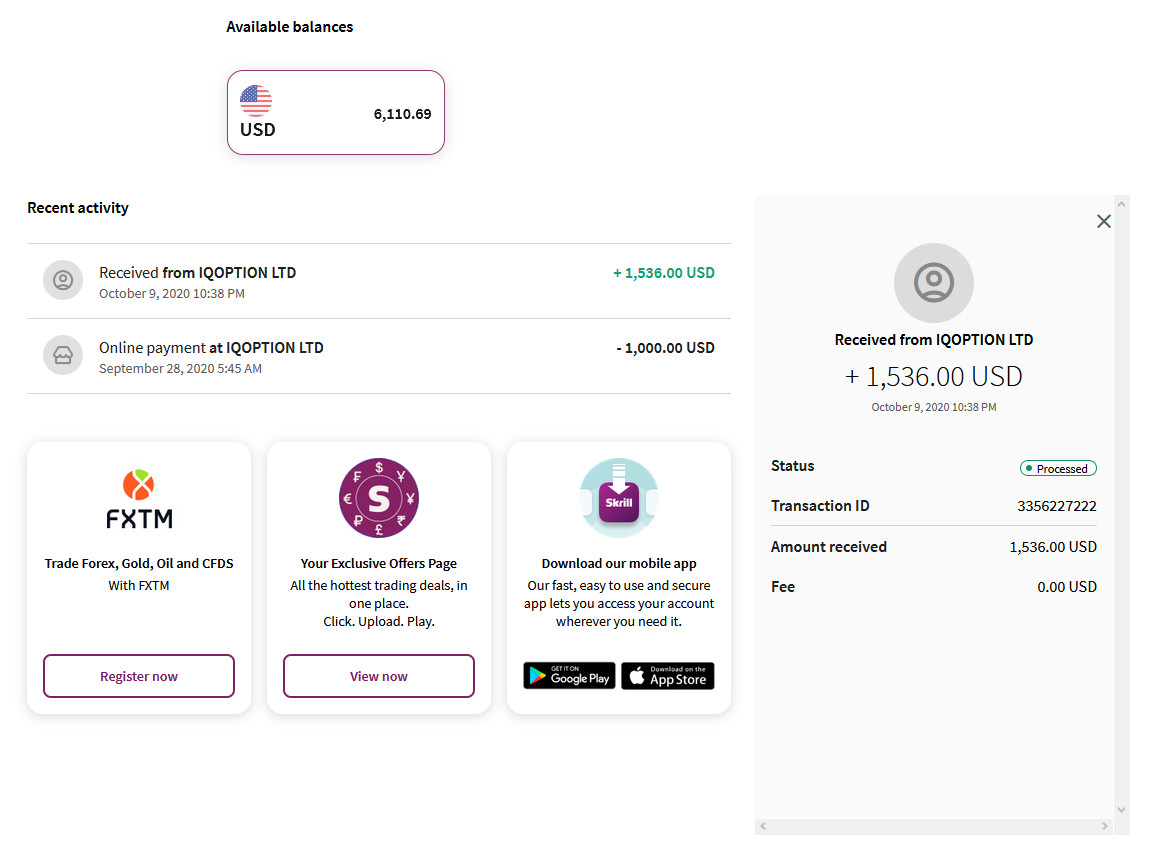 Get rid of the idea that following the trend is sure to make a profit. If you do not choose a good time to open the order, the loss will come with no surprise. In the game of probability, when there are 8 parts of winning, there are still 2 parts of the risk that you must face.
What you need to do is to stay disciplined to the principles that you set out earlier. Profits will come once you have won against yourself. Learn how to trade with the Alligator indicator and see it as a tool to find profits. Wish you success.