Indonesia

Português

Tiếng Việt

ไทย

العربية

हिन्दी

简体中文

Nederlands

Français

Deutsch

हिन्दी

Italiano

한국어

Melayu

Norsk bokmål

Русский

Español

Svenska

Tamil

Türkçe

Zulu
If you are new to the Forex market, you are sure to have a headache in choosing a trading strategy to make profits in IQ Option. With not much knowledge and experience, it is very difficult to screen out which trading strategy is right for yourself Therefore, in this article, I will introduce to you the Underscore trading strategy which is very easy to use even if you are a beginner.
This is a strategy that gets the best reviews from users. In particular, experienced traders also think that this is the right strategy for beginners.
Register IQ Option and Get Free $10,000 Get $10,000 free for newbies
What is the Underscore trading strategy?
Underscore is a trading strategy that relies on technical indicators for trend entry. It brings safety and profitability to the users in the most stable way.
This is a purely technical trading strategy that is set up as follows:
Time frames: 1-minute candlestick chart.
After the setup is complete, the screen will display the same as below.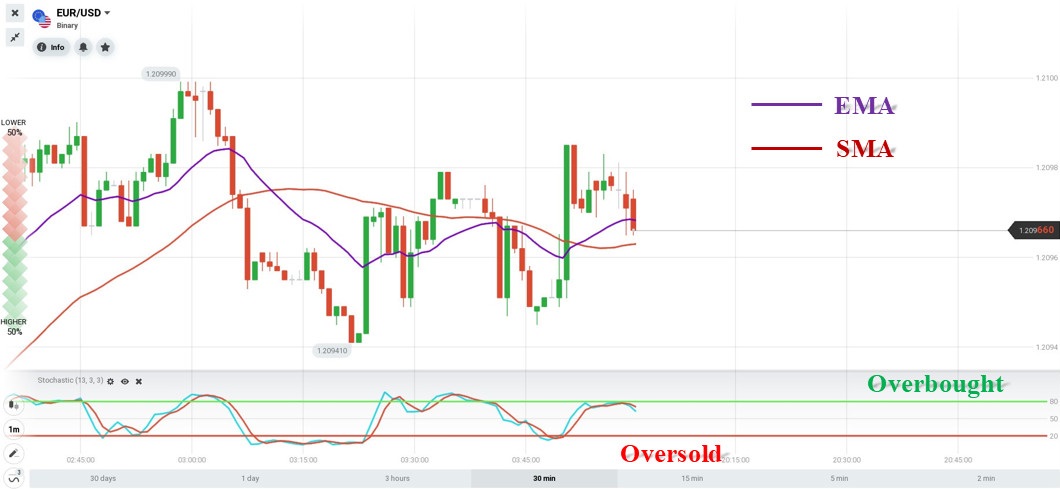 How to open an order
The Underscore trading strategy is only convenient for trend trading. So when the market is going sideways, you should not place orders to avoid unnecessary risks.
Notes: Observe the 1-minute candlestick chart and open orders with a 5-minute expiration time.
Open a HIGHER order when the Stochastic indicator is in the oversold zone and the EMA (purple) is above the SMA (red) indicating an uptrend.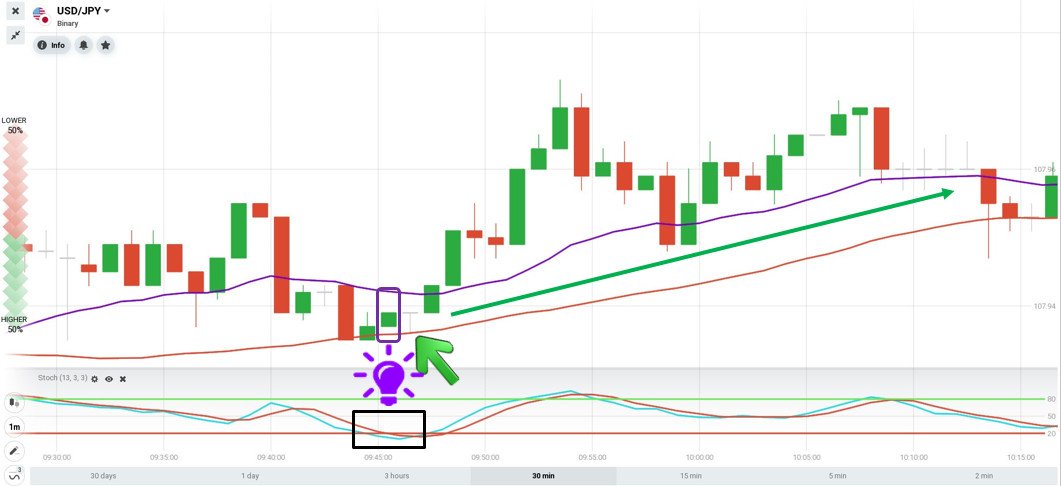 Open a LOWER order when the Stochastic indicator is in the overbought zone and the EMA is below the SMA showing the trend is beginning to go down.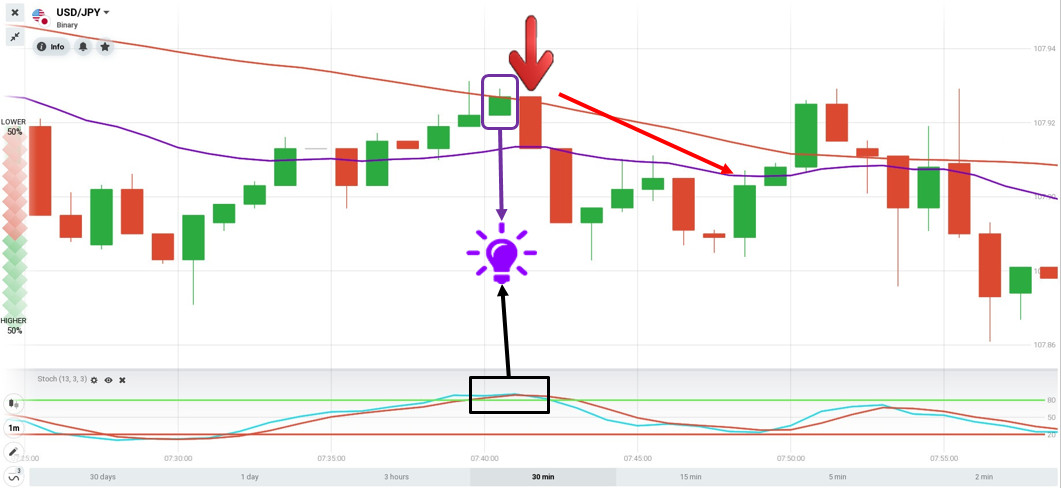 Capital management
Due to observing the 1-minute chart but opening a 5-minute order, you will have lots of entry opportunities. Therefore, it is important to carefully screen these opportunities. You should not put your money into where there is high risk but need a proper capital management method based on probability to make a profit.
In my opinion, balanced investment (Classic) capital management is the best.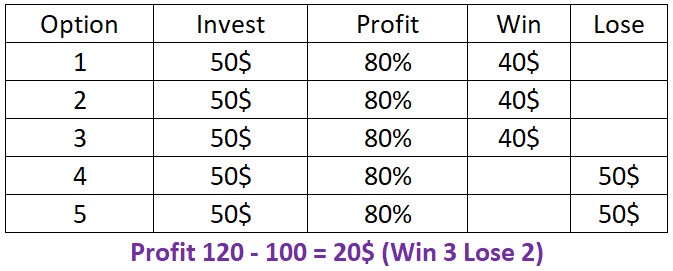 If you have a win rate of over 60%, then with the above method of capital management, you must have made a profit. As for the strategy, according to the assessment, if you comply with the principle, the probability of winning is over 60% (remember to test beforehand).
Notes when using the Underscore trading strategy
Do not place an order when the EMA crosses the SMA

Do not open an order when the basic news is published.

This is a simple, effective strategy but requires a lot of patience.

Only trade when all safety conditions set forth in advance are met.

Only enter 5-minute transactions.
Finally, let's test on a Demo account before entering the market with a real account. I wish you successful transactions.
Register IQ Option and Get Free $10,000 Get $10,000 free for newbies

Indonesia

Português

Tiếng Việt

ไทย

العربية

हिन्दी

简体中文

Nederlands

Français

Deutsch

हिन्दी

Italiano

한국어

Melayu

Norsk bokmål

Русский

Español

Svenska

Tamil

Türkçe

Zulu