Indonesia

Português

Tiếng Việt

ไทย

العربية

हिन्दी

简体中文

Nederlands

Français

Deutsch

हिन्दी

Italiano

한국어

Melayu

Norsk bokmål

Русский

Español

Svenska

Tamil

Türkçe

Zulu
The IQ Option platform has updated most currency pairs to support traders to diversify their portfolio. However, Forex trading in IQ Option is a little different from other Forex trading platforms. In this article, we will guide how to trade Forex in IQ Option in the most detailed way.
First, register for an IQ Option account and deposit to get started. The benefit of signing up for an IQ Option account is that you can make money with a variety of investment channel as follows:
Forex

Options

Digital

Crypto

CFD
You can register quickly in the box below.
Register IQ Option and Get Free $10,000 Risk warning: Your capital might be at risk.
Please consider when choosing the options trading channel. Because this is a channel to make money fast but you can also lose money fast.
How to trade Forex in IQ Option
The advantage of IQ Option is the intuitive interface and all-in-one trading. In addition, IQ Option supports multiple platforms including computers, web browsers, and even mobile applications. Regarding mobile applications, all you need to do is set parameters and place orders.
Select your favorite currency pair to trade Forex in IQ Option
After logging into the IQ Option interface, click on the plus icon. Continue to choose the Forex investment channel to invest in.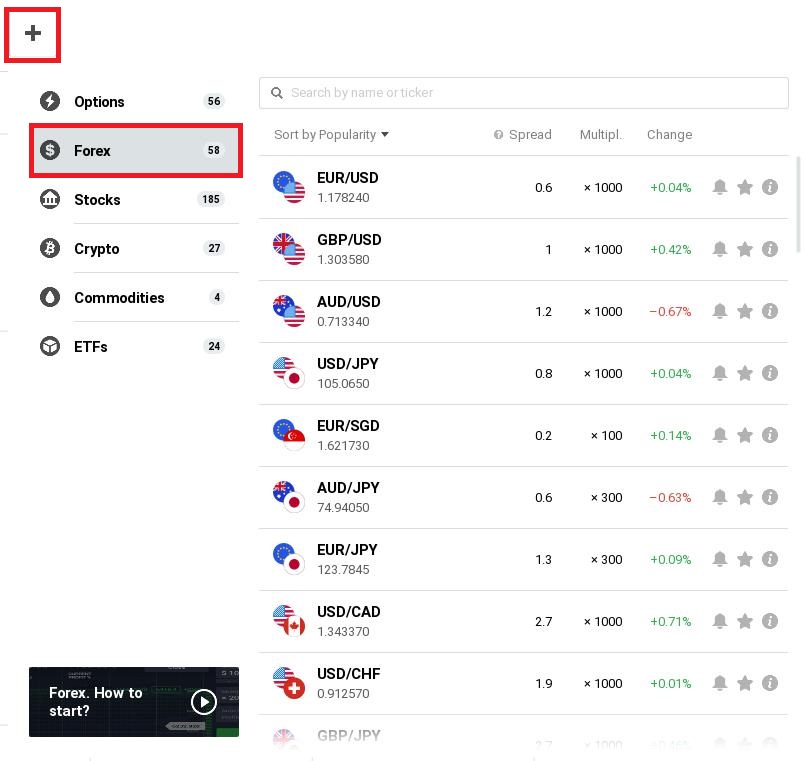 There are many currency pairs to invest in including EUR/USD, AUD/USD, USD/CHF, etc., and many more. You can enter the currency pair you want to trade on the quick search box to save time.
For example, If you want to select the USD/CHF currency pair, you just need to type CHF.
Investment amount and leverage
After choosing the currency pair to trade, we will choose the amount of investment and leverage.
Amount: The amount of money you want to invest. To me, the maximum investment should only be half of the balance on your account. The remaining is to cover your losses.
Multiplier: This box is important. Do not try to set the Multiplier (leverage) to exceed x200 in IQ Option because higher profit will come with great risk. I highly recommend that you don't set it over x100.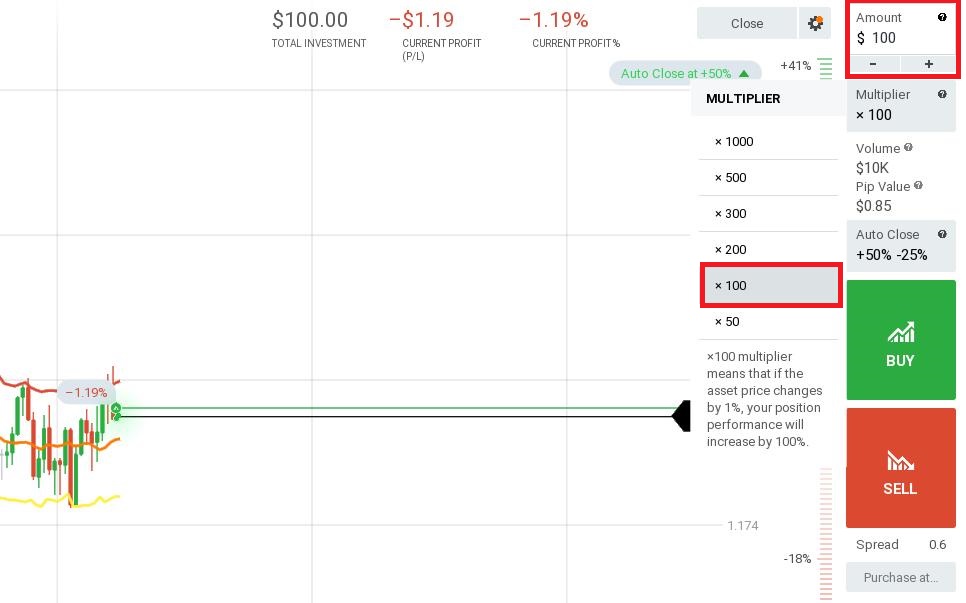 Stop-loss and take-profit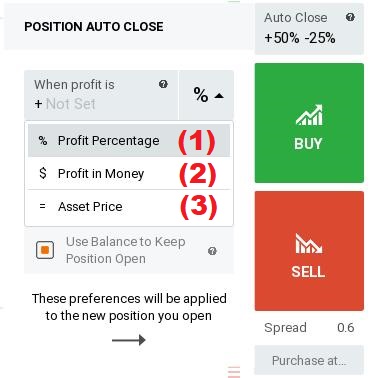 Take-profit (When profit is) and  Stop-loss (When loss is) in IQ Option have 03 specific choices as follows:
(1) % Profit Percentage: is the ratio of the profit or loss compared to your investment amount (50%, 100%, 200%, etc)
(2) Profit in Money: is the specific amount of profit or loss in USD. For example, Your investment is $100. You want to make a profit of $100 and just want to lose $65, then you can set it here.
(3) Asset Price: This is the most common method.
For example, I place a Buy order for the EUR/USD when the exchange rate is 1.1990. I want a Stop-loss at 1.2000, and a Take-profit at 1.1980. Then, I can choose "Asset Price". In "When profit is" box, you set 1.2000.  AAnd in "When loss is", you enter 1.1980.
How to view all open positions and pending orders in IQ Option
To view the position of opened orders, select "Total Portfolio" and go to tab "Active". There, you can also click on "Settings" (gear icon) to adjust the stop-loss and take-profit for opened orders. Click "Close" to close the order when you do not want to continue investing.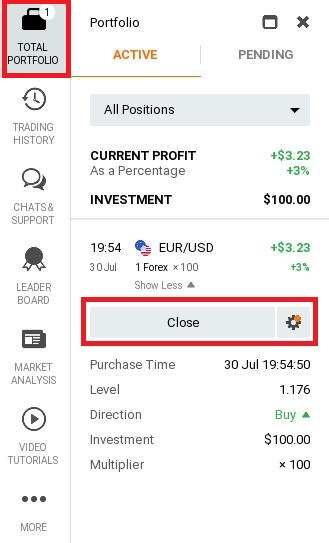 The "Pending" section shows the pending orders that you are buying or selling at a given price. "Trading History" is an area to view all orders traded.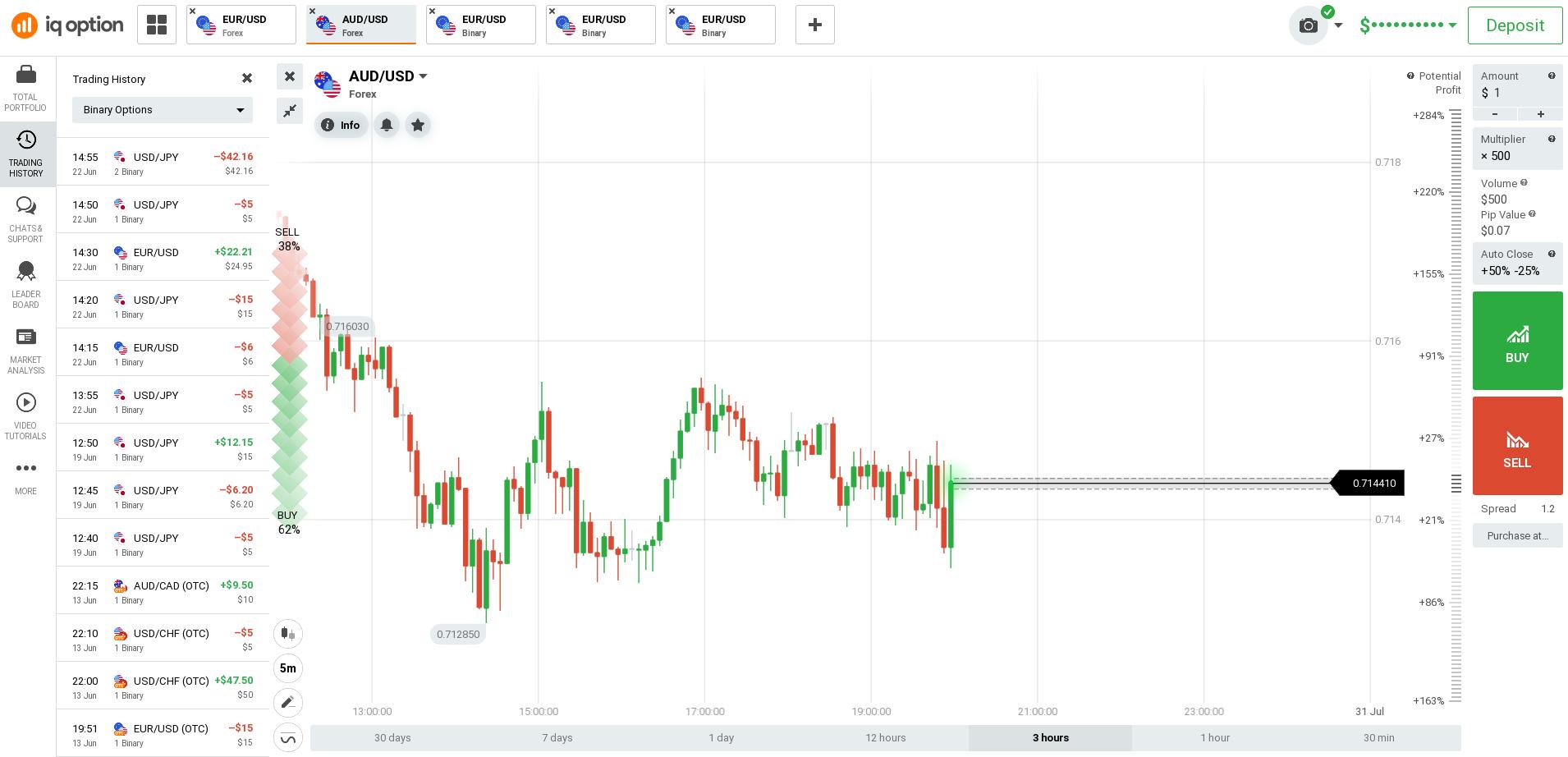 Things to keep in mind when trading Forex in IQ Option
Absolutely do not go all-in in any case. Never put all your money in one order to go all or nothing. It's dangerous.

Strictly manage the capital by investing 2-5% of your total balance for each order.

Know where to stop when you reach your daily, weekly, or monthly goal. Do not become a stupidly greedy trader

Do not combine many trading systems or strategies. It takes your time. Find a strategy that you feel confident in and don't get discouraged if the results are not good in the first place.

Do not become complacent and arrogant. Because these two things make a trader lose more and more in the long run.

Do not worry too much about a trade. Just place the order if all conditions are met. And after placing, let the market show you if your prediction is correct or not.
Review on opened Forex trading orders in IQ Option from July 27 to July 30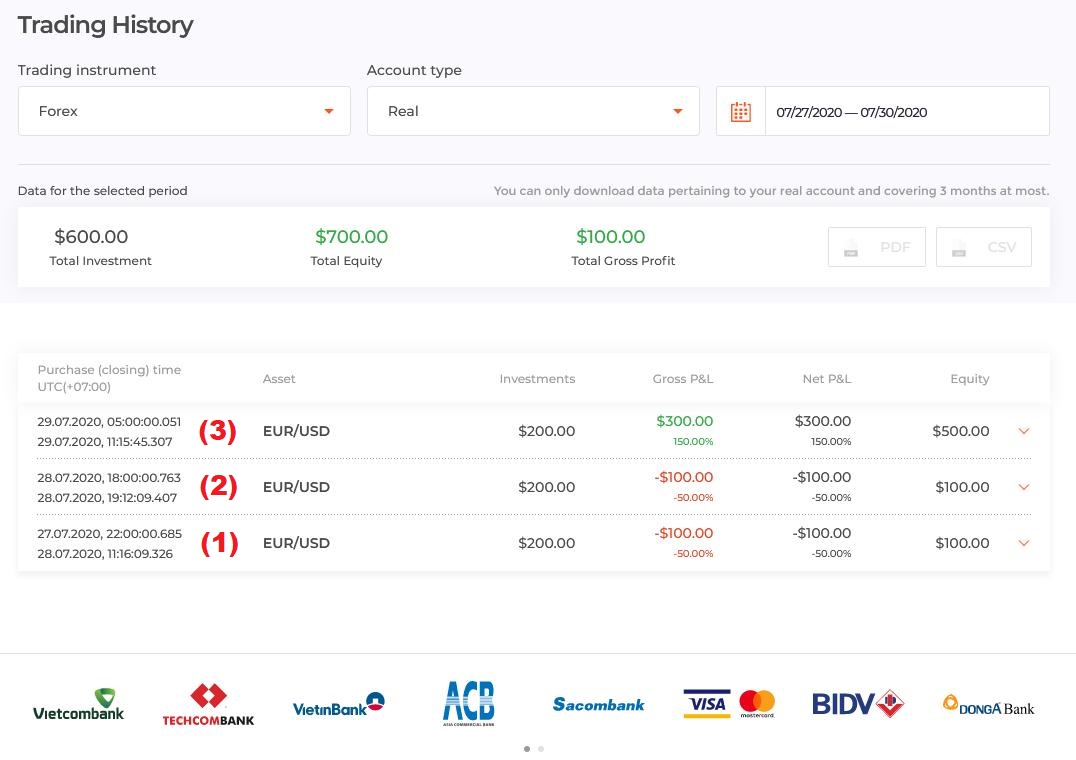 As you can see, I only traded with 1 single currency pair which was the EUR/USD. The above orders were set with a take-profit of 150% and a stop-loss of 50%. Even though the number of correct predictions is less than the number of incorrect predictions, you can still be profitable when the take-profit is high. This is a plus point for the Forex money-making channel. You can open 10 orders with the win rate of 5:5 but still make some profits if the take-profit is high.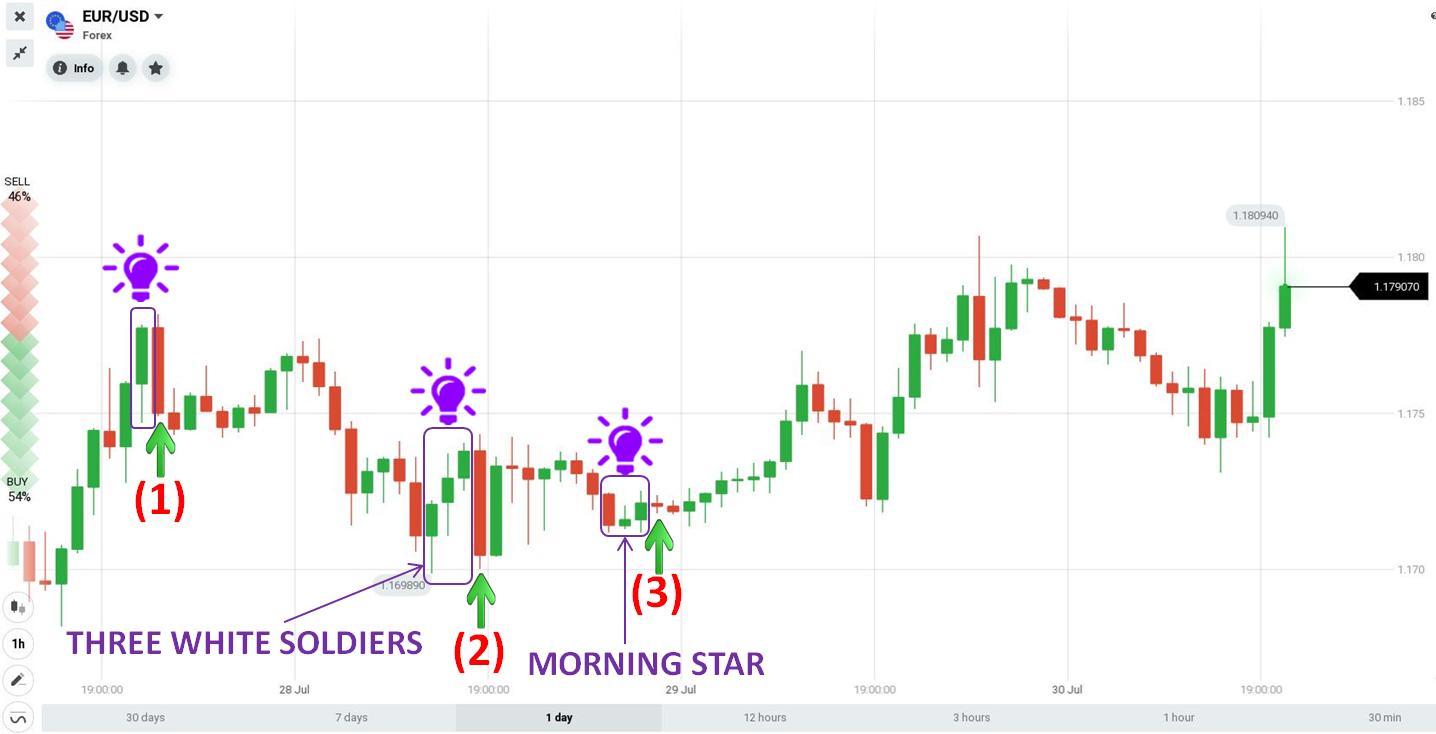 1st order: The main trend was an uptrend. Prices returned to test the support with a Bullish Pin Bar candlestick. I expected the trend to continue rising. Opened a Buy order when the Bullish Pin Bar candlestick was confirmed.
2nd order: When the uptrend began to adjust, right at the support zone, a Three White Soldier candlestick pattern appeared. I predicted an uptrend. Opened a Buy order as soon as the Three White Soldiers candlestick pattern formed at the support zone.
3rd order: The Morning Star candlestick pattern appeared in the support zone indicating an uptrend. Opened a Buy order when the Morning Star candlestick formed.
In conclusion
If you are not successful with the options trading channel in IQ Option, Forex will be a potential money-making channel for you. First, find an effective strategy and test it on your Demo account.
When you have a stable winning rate, you can switch to trading with real money. Remember to open long-term orders. Do not observe short time frame candlesticks to avoid false signals from the market. Thank you for following the article "How to trade Forex in IQ Option" at Blogtien. I wish you successful transactions.
Register IQ Option and Get Free $10,000 Risk warning: Your capital might be at risk.

Indonesia

Português

Tiếng Việt

ไทย

العربية

हिन्दी

简体中文

Nederlands

Français

Deutsch

हिन्दी

Italiano

한국어

Melayu

Norsk bokmål

Русский

Español

Svenska

Tamil

Türkçe

Zulu