Indonesia

Português

Tiếng Việt
When you are ready to make money anywhere with your smartphone, IQ Option application will help you make the transaction easier and more convenient. This article will guide you on how to install IQ Option application on your phone and how to trade IQ Option on the Demo account
How to download IQ Option application for smartphones
You can click on the 2 tabs below to download IQ Option to your phone. If you use an Iphone (iOS operating system), select App Store. And if you use the Android operating system (phones like Samsung, Huawei, Xiaomi, etc), choose Google Play.


Open the app and log in your IQ Option account
For example, if you use Iphone on iOS, this is the downloaded IQ Option app.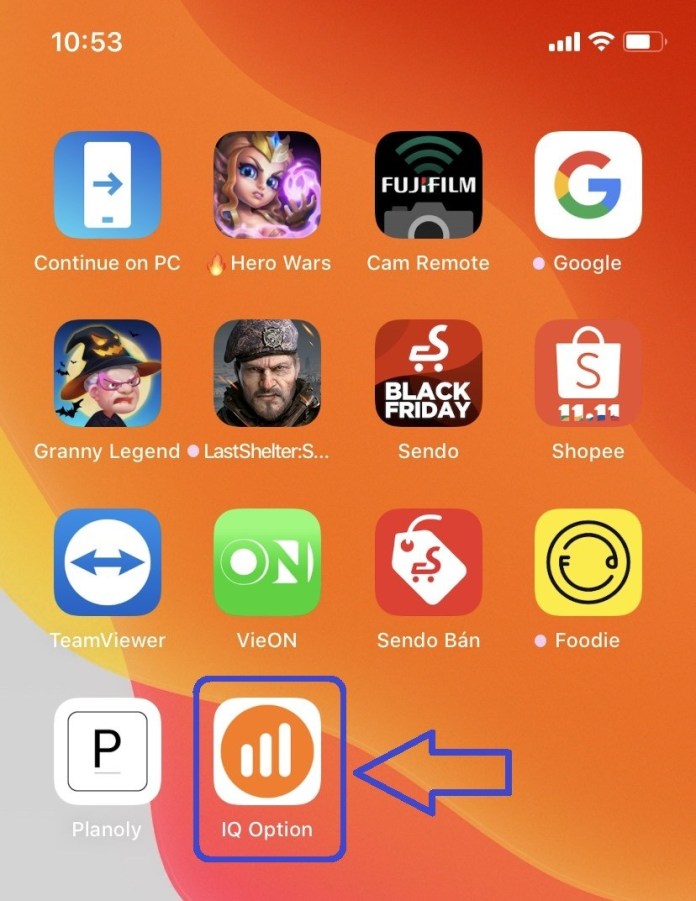 You can open the application and log in your IQ Option account.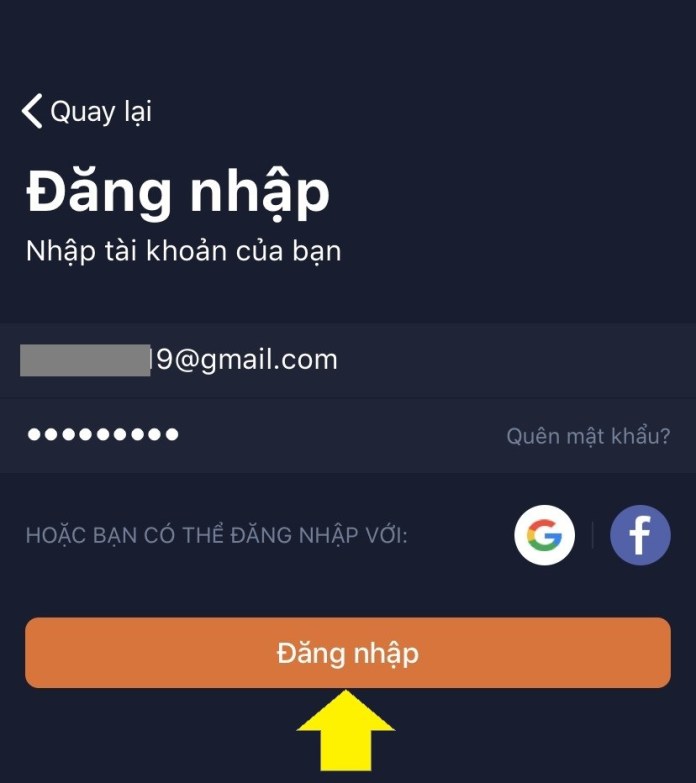 If you do not have an IQ Option account, you can open a new account for free at the registration box below:
How to begin with IQ Option application on smartphones
Basic set up on IQ Option app before trading
(1) Select a trading product in IQ Option.
You can choose Digital Options, Forex, smartphones or Stock.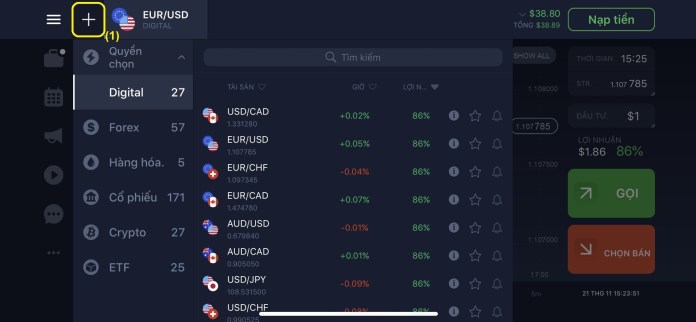 (2) Select a Demo account on IQ Option application
Naturally, if this is your first time with the interface on the phone, it's better to use the Demo account.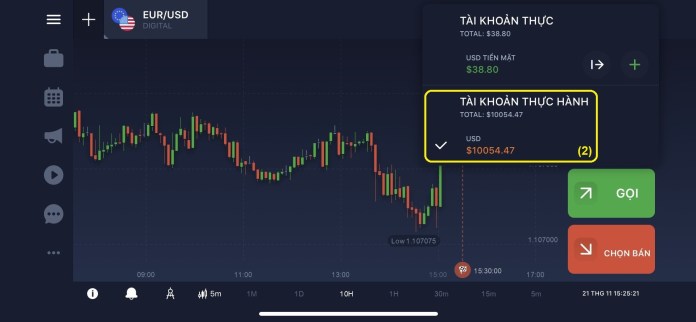 (3) Select Japanese candlestick chart.
Most IQ Option trading strategies use a Japanese candlestick chart in the 5-minute time period as a standard.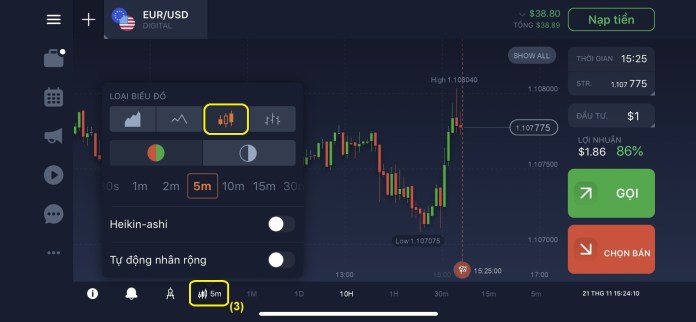 (4) Select indicators on IQ Option application.
Depending on the options trading strategy you use and combine it with appropriate indicators.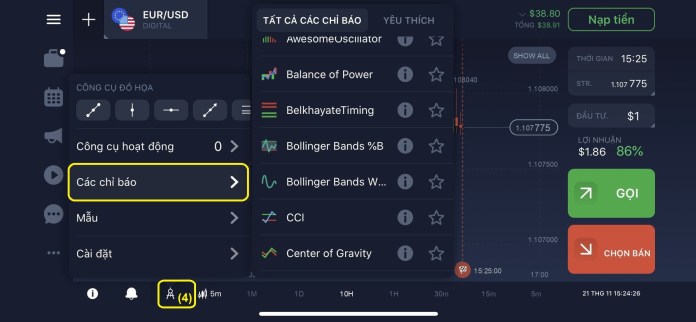 How to trade with Demo accounts on IQ Option application
After completing the above process, it's time to wait patiently for the appropriate entry points. This is when you choose the expiration time and the amount for a trade.
(5) Select the expiration time for an option trading.
For newbies, the default trading time must be from 5 to 15 minutes.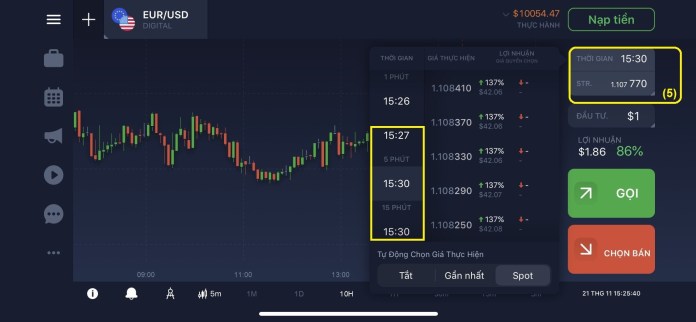 (6) What is the amount for one transaction?
Although it is a Demo account, you should start with $1 or $10. Let's think it as your own real account right from the start. Thanks to this, you will practice patience and discipline.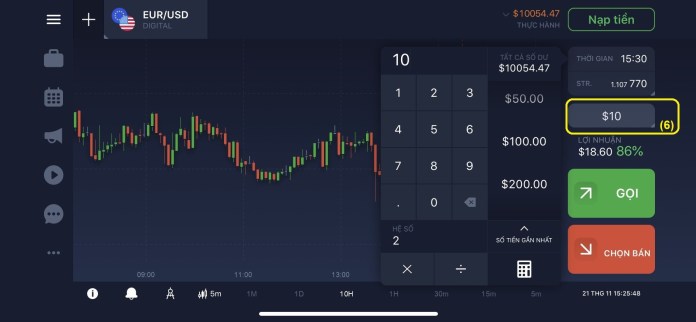 (7) Finally, HIGHER or LOWER.
If you bet the price will increase in the time period you selected earlier => Click the green button (HIGHER). Conversely, if you bet the price will decrease => Click the red button (LOWER).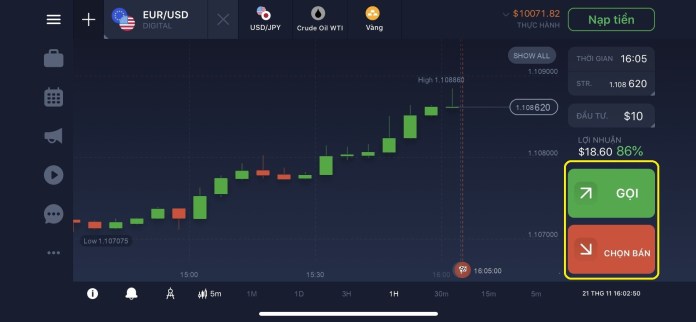 Notes when trading IQ Option on smartphones
First, you need to turn off one-touch transactions because this feature will open transactions with just one-touch. It will be a disaster when just a wrong touch can result in an unfavorable transaction. To change it, click on the settings and turn off the one-touch feature.
Wifi or 4G connection must be stable. This ensures that the application remains active continuously.
At the same time, IQ Option trading on the phone or on the Laptop / PC is the same. Knowledge is also required to open options. Therefore, let's cultivate knowledge for yourself more and more.

Indonesia

Português

Tiếng Việt