Indonesia

Português

Tiếng Việt
This is one of the most popular patterns and it is seen as a sign for opening an option in IQ Option. Spinning Top is also known as accumulation candlestick. This article will show you how to find the pattern and trade using it in IQ Option.
What is Spinning Top?
Spinning Top is indicative of a drawn battle between buyers and sellers. Opening price and closing price of the pattern are not too different. Sometimes they are the same. Specifically, Spinning Top candlestick has a small body or no body, with long shadow both on top and bottom of the body (like a "+" mark).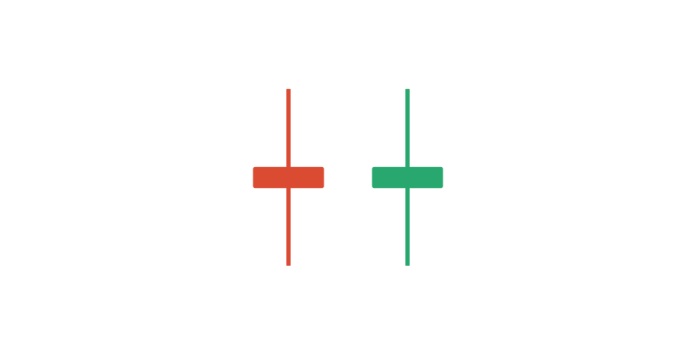 When appearing, Spinning Top shows a neutral market where investors are in a dilemma between "buy" and "sell". The price rises and falls continuously but closing at the same point as the opening price.
Spinning Top Pattern is often used as a signal. When this pattern appears in support/resistance, in the middle or at the end of a trend. Certainly, you should focus and observe carefully to catch the entry point for opening options.
How to trade with Spinning Top in IQ Option
Spinning Top pattern is a signal for buying options. Therefore, you should observe the areas where those Spinning Top candlesticks appear.
Support/resistance zone + Spinning Top candlestick
The price reaches support/resistance zone and creates a Spinning Top candlestick. As a result, there are 2 cases that may happen.
(i) Price accumulates at support/resistance zone and breaks out of it.
(ii) Price reverses.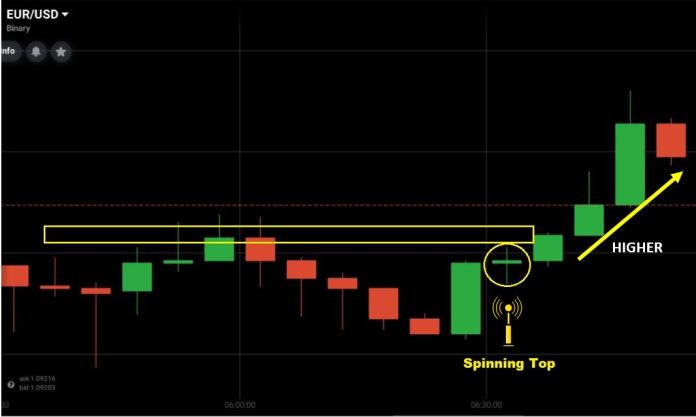 In both cases, you should ready to open an option. For example, when Spinning Top candlestick reaches the resistance zone and then breaks out of it, it's time to buy a Higher option.
Trend + Spinning Top candlestick
Spinning Top candlestick appearance in the middle of a trend is the sign for temporary price reversal.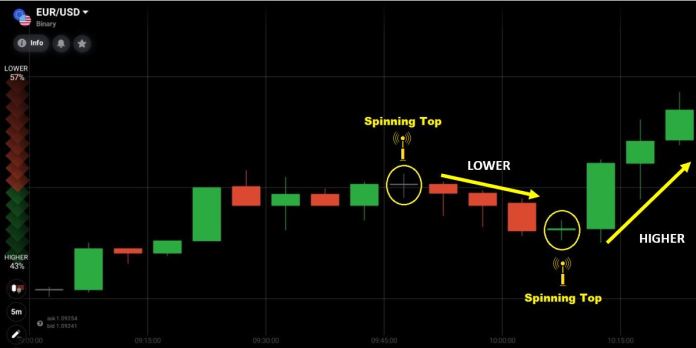 For example, Spinning Top candlestick appears in the middle of an upward trend => sign of temporary price adjustment => next Spinning Top candlestick appears => the end of price downward adjustment => Price will continue to increase. You should buy Higher options when you are sure that the price continues to rise.
RSI + Spinning Top candlestick
Moreover, Spinning Top candlestick can also appear at the end of an increase or decrease cycle.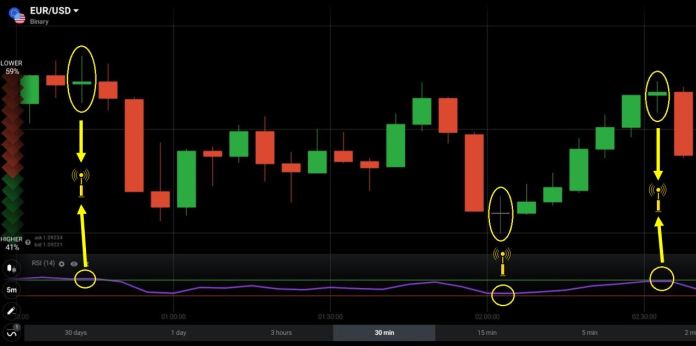 If you use this Spinning Top candlestick in combination with RSI, you can open options following the below indication.
(i) RSI at 70 + Spinning Top = opening LOWER options.
(ii) RSI at 30 + Spinning Top = opening HIGHER options.
Hope this article is useful for you. Good luck!

Indonesia

Português

Tiếng Việt