Indonesia

Português

Tiếng Việt
Hammer is a special candlestick that appears when trading options in IQ Option. Under normal circumstances, you can ignore this candlestick pattern. However, when you use it in combination with other indicators like support/resistance, RSI, etc. Hammer becomes a reliable signal for opening a HIGHER option.
What is Hammer candlestick? How to identify it
Hammer often appears at the end of a downward trend. It is one of reversal candlestick patterns that sign the reversal of a downtrend. Therefore, when this pattern appears, you can prepare to buy an option in IQ Option.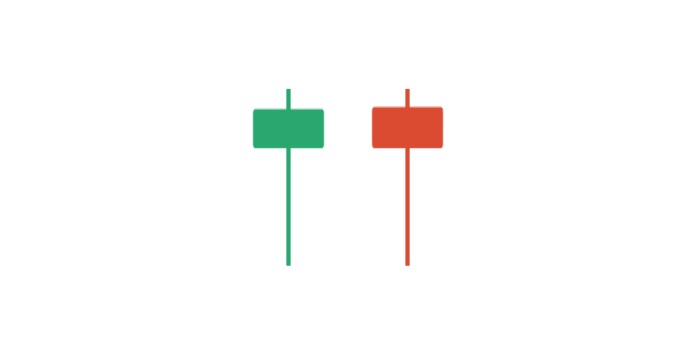 How to identify a Hammer
– Hammer candlestick looks like a hammer. Its body points upward and its shadow points downward.
– The color of Hammer is not important.
– Hammer may have a small upper shadow or no upper shadow.
How to trade with Hammer candlestick in IQ Option
Hammer is a reversal candlestick pattern. Therefore, you should combine it with other indicators to get more reliable points to open reversal options. You should only open HIGHER options when using this candlestick pattern in IQ Option.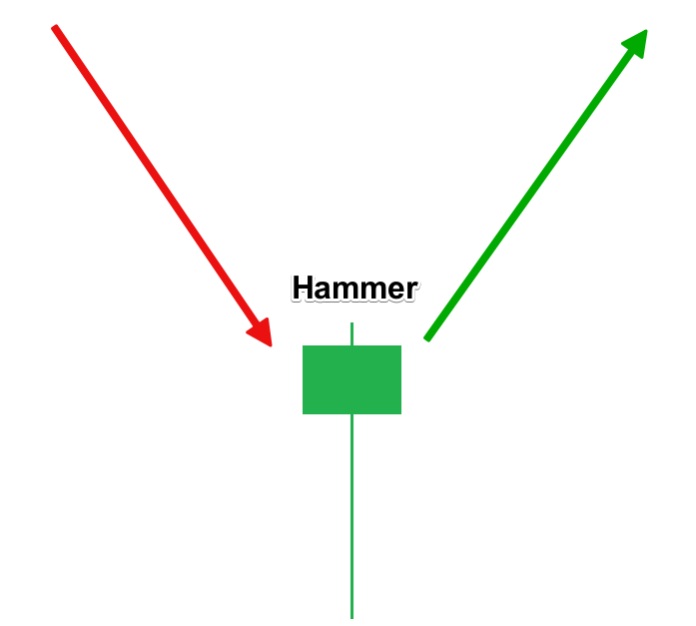 In combination with support
When the price reaches the support zone, there's a high probability that it will reverse to the upward trend. When a Hammer occurs at the support zone, it is a reliable signal for you to open a HIGHER option.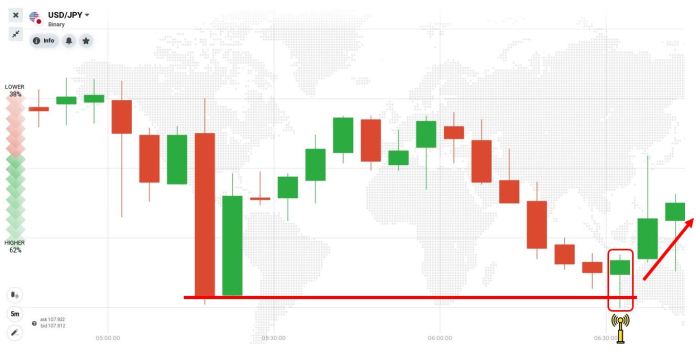 In combination with RSI
RSI stands for Relative Strength Index. When RSI reaches 30 (the red line), the price is more likely to return to its uptrend. If there's a Hammer appearing in the market, the probability of downward trend reversal is very high. At that time, you can open a HIGHER option.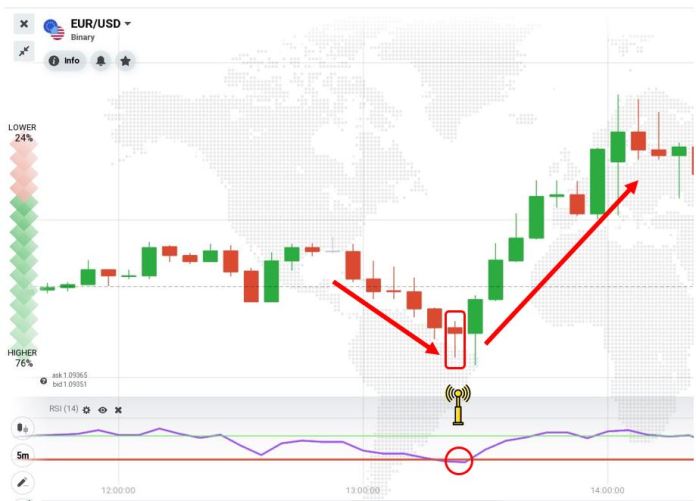 Some notes when trading in IQ Option with the strategies that relate to Hammer candlestick
– You should choose 5-minute or more Japanese candlestick. The longer the candle time period is, the more reliable the Hammer has.
– The appearance of Hammer is not the confirmation for trend reversal. Sometimes, its appearance signifies a temporary reversal. Therefore, you should open short options. For example, if you observe the 5-minute candlestick chart, you should set the expiration time at 5 minutes or 10 minutes.
– Never buy options continuously. When a Hammer appears, you should open only one HIGHER option.

Indonesia

Português

Tiếng Việt