Indonesia

Português

Tiếng Việt

ไทย

العربية

हिन्दी

简体中文

Nederlands

Français

Deutsch

हिन्दी

Italiano

한국어

Melayu

Norsk bokmål

Русский

Español

Svenska

Tamil

Türkçe

Zulu
Bollinger Bands is certainly not a strange name in the trading world. Today I will show you how to use Bollinger Bands indicator with 2 different time frames, a very simple and effective trading strategy. This strategy is getting a lot of attention from the forums and trading groups.
Register IQ Option and Get Free $10,000 Risk warning: Your capital might be at risk.
To make good use of the Bollinger Bands trading strategy, you have to be flexible
When it comes to Bollinger Bands indicator, almost anyone can use it easily. Because of its very simple structure, it is easy to see the safe entry points quickly. But to make a profit with it, you need to have a quick reaction when the opportunity appears very briefly in a certain moment.
So it's not hard to see why people who are new to Bollinger Bands can't make money. Their reflexes have not been trained as seriously as professional traders. When the order was opened, the price was no longer favorable, causing them to face high risks.
How to capture those golden moments? You need to watch the smaller time frame to capture the price movement and enter the trade. Now I will show you how to set it up.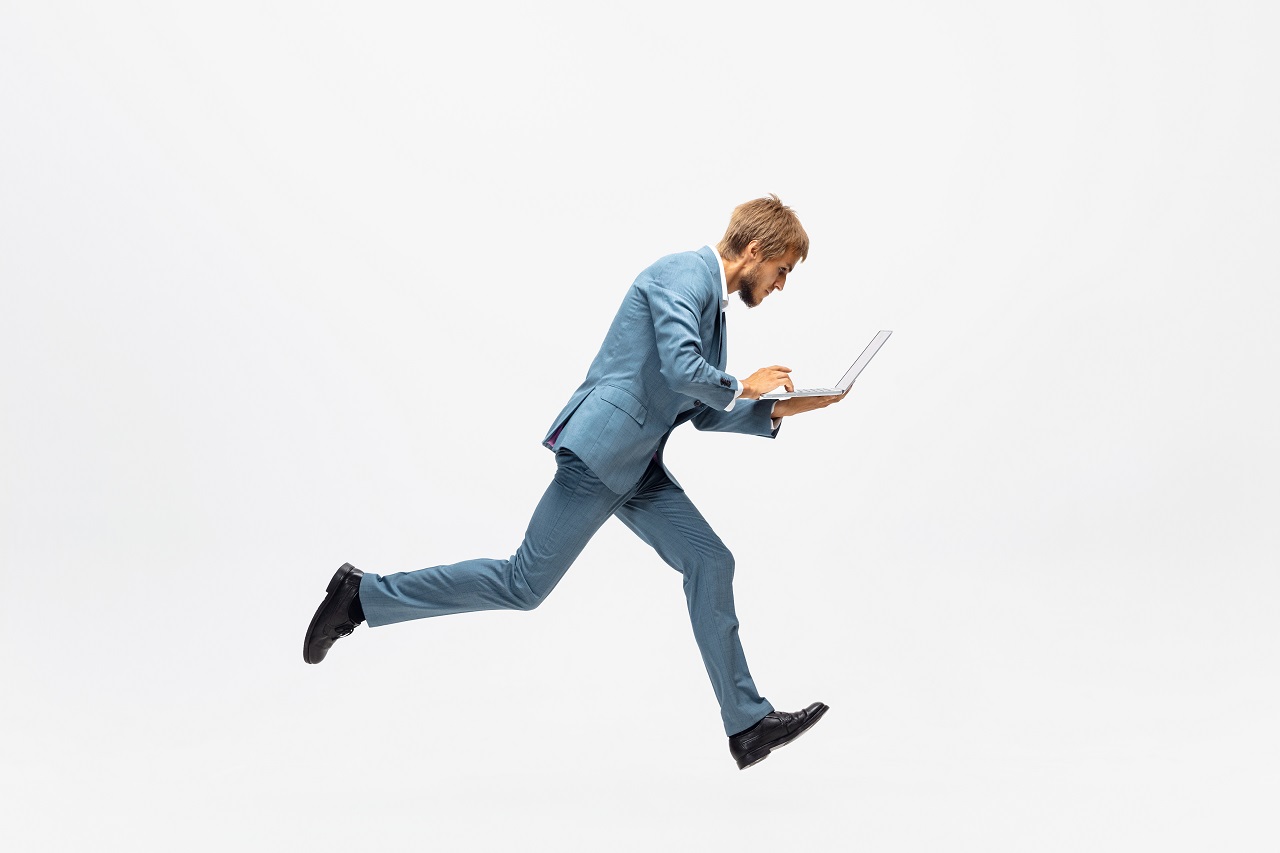 How to set up the Bollinger Bands trading strategy
First you need to log in to your IQ Option account. Then select "Chart layout" and choose to observe 2 screens. Finally choose your favorite currency pair to trade.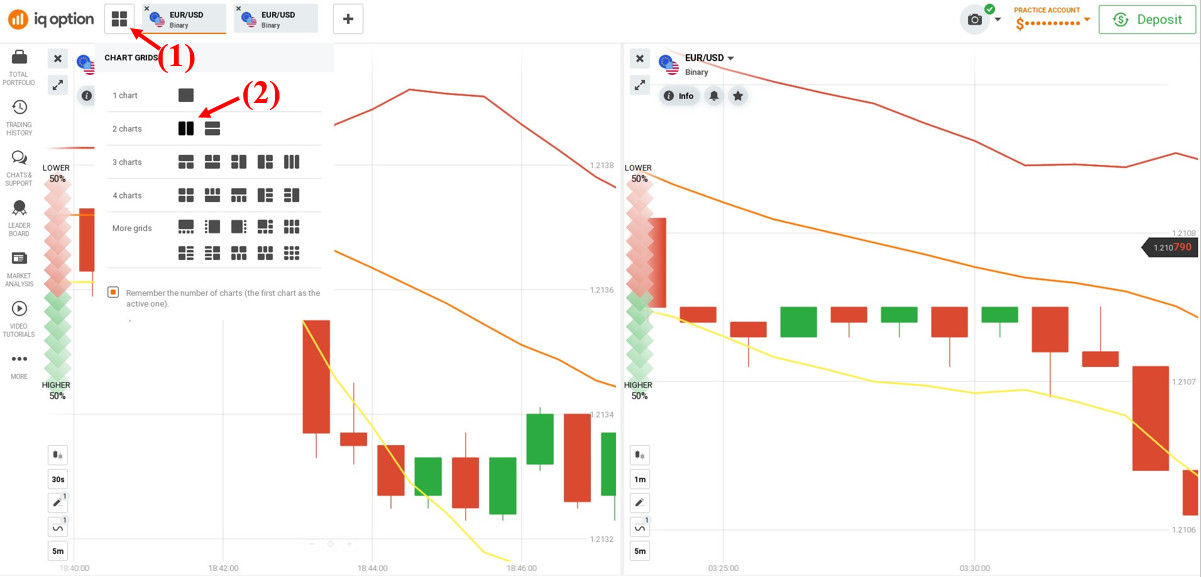 Conditions for setting up how to trade:
The default Bollinger bands indicator (20,2) on both time frames. Time frames are 30s and 1 minute respectively.
This strategy is used to preview the price movement at the potential reversal zones of the Bollinger Bands indicator. But its setup is a bit confusing for you. You will have to open 2 price charts of the same asset you want to trade on the screen at the same time. Both of these charts must have Bollinger Bands.
How to enter orders
The conditions to enter the order are not difficult, even if you are a beginner. The conditions for entering the order are as follows:
Open a HIGHER order when the price falls to the lower band of Bollinger Bands in both charts. Then you wait for the candle on the 30-second chart to show a strong increase and a strong candle pops up. At that time, you can enter an order to predict the price to increase in the next 1 minute.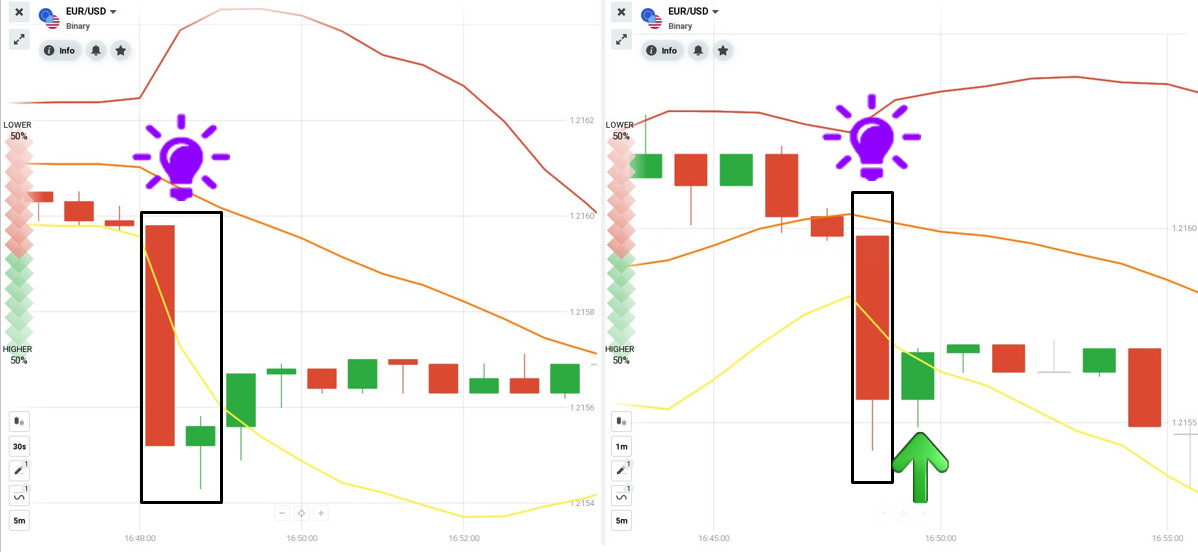 Open a LOWER order when the price breaks above the upper bands of Bollinger Bands on both charts. Then you wait for the candle on the 30s chart to show a strong downward force and a long candle appears. That is the time when you can enter an order predicting the price will fall in the next 1 minute.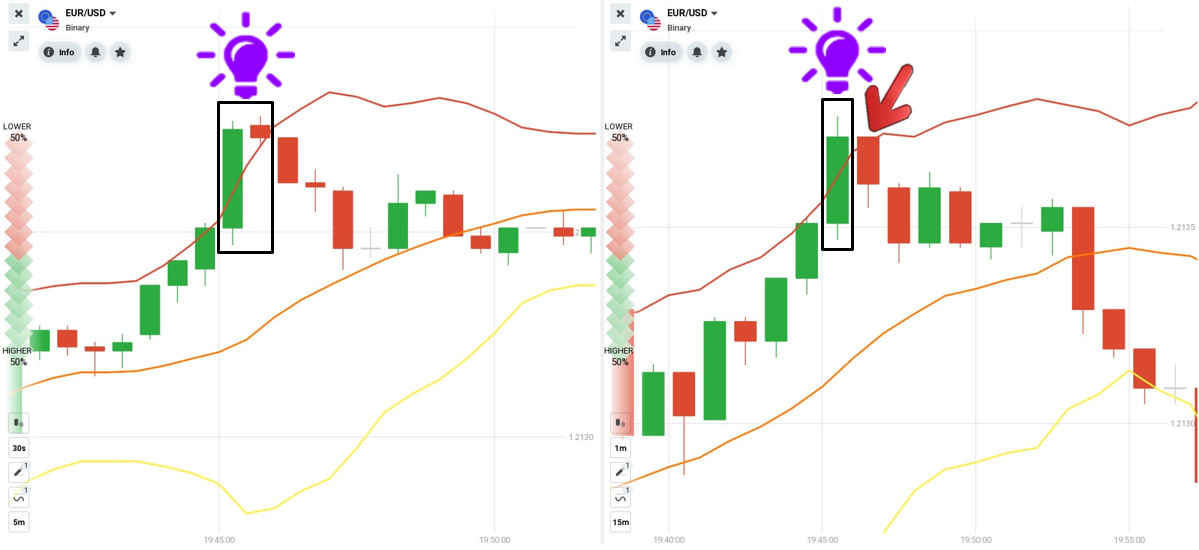 I have some notes with the above trading rules that you need the knowledge of price action to choose a candle with strong force. It is an important candle that determines the success of a trade. Because if there is too little force, it is possible that the trade will fail. This is just the experience of looking at the candlestick chart to increase the win rate.
Capital Mangement
This is a reversal strategy so you will bet your money where the price is most likely to reverse. What if it can't reverse immediately? You will have losing orders when you do not choose the right time. But that's okay when you can apply the Martingale capital management. You can compensate for the amount of your previous losses by winning only one trade.

Note: the larger the volume of the following orders, the more likely you will burn your account. So you should put a limit to 3 orders max in a trading circle.
In conclusion
If you feel depressed when you lose continuously during the first time using the Bollinger Bands indicator, then try this strategy. I'm sure it will give you more flexibility in choosing a nice entry point. Remember to use a Demo account to not take any risks when testing.
Register IQ Option and Get Free $10,000 Risk warning: Your capital might be at risk.

Indonesia

Português

Tiếng Việt

ไทย

العربية

हिन्दी

简体中文

Nederlands

Français

Deutsch

हिन्दी

Italiano

한국어

Melayu

Norsk bokmål

Русский

Español

Svenska

Tamil

Türkçe

Zulu