Indonesia

Português

Tiếng Việt

ไทย

العربية

हिन्दी

简体中文

Nederlands

Français

Deutsch

हिन्दी

Italiano

한국어

Melayu

Norsk bokmål

Русский

Español

Svenska

Tamil

Türkçe

Zulu
The financial market is extremely fierce is like a battlefield. The money in the account is your soldiers and indicators are their weapons. As a general, you need to have an effective strategy to limit the death of your soldiers (reduce money loss) and have as many victories as possible (maximize profits).
Master yourself, master your enemy. To know your enemy, you have to send some soldiers to spy on their strengths and weaknesses. If they are strong, you wait. If they are weak, you're going to fight for glory.
In trading, I call those who go for a spy mission "test order". A test order plays a part in identifying the market trend. If it's right as my prediction, I will place more trades and increase trading volume. If it's wrong, I lose a small amount and wait for another chance.
Today, I will guide you to enter the test order to maximize the profits earned when the price moves in line with your prediction.
Register IQ Option and Get Free $10,000 Risk warning: Your capital might be at risk.
Ideas about test order in IQ Option
(1) Find and confirm the main trend of the market on the 4h chart. Choose an entry point for a Forex test order. Increase safety by setting Stop Loss and Take Profit.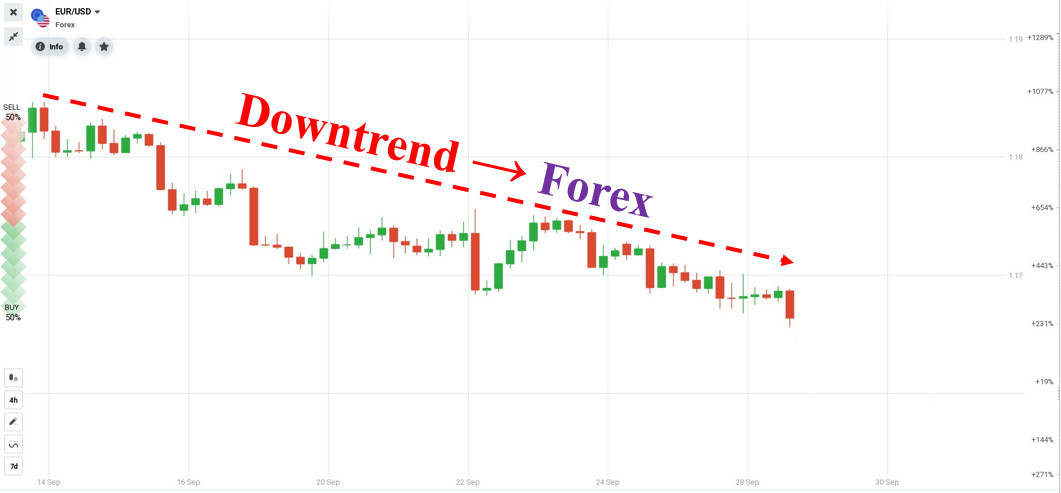 (2) In case the market goes according to your prediction, it means that the Forex test order is profitable. Start trading options with exactly or less of the profit that the Forex order brings.
(3) Unfortunately if the price does not go according to your prediction, the Forex order will hit Stop Loss. You only lose a small amount of capital.
How to open a test order in IQ Option
Step 1: Choose the asset you want to trade and analyze the price movement on the 4h chart. Why choose this time frame? Because the 4h chart is very suitable for Forex orders.
For example, I predict the price of USD/JPY will increase shortly so I open a test order: BUY USD/JPY
Reason: The price just touched the previous support zone.
Forex order: BUY USD/JPY $100, leverage x50.
Stop Loss (SL) 15% = 15$
Take Profit (TP) 75% = 75$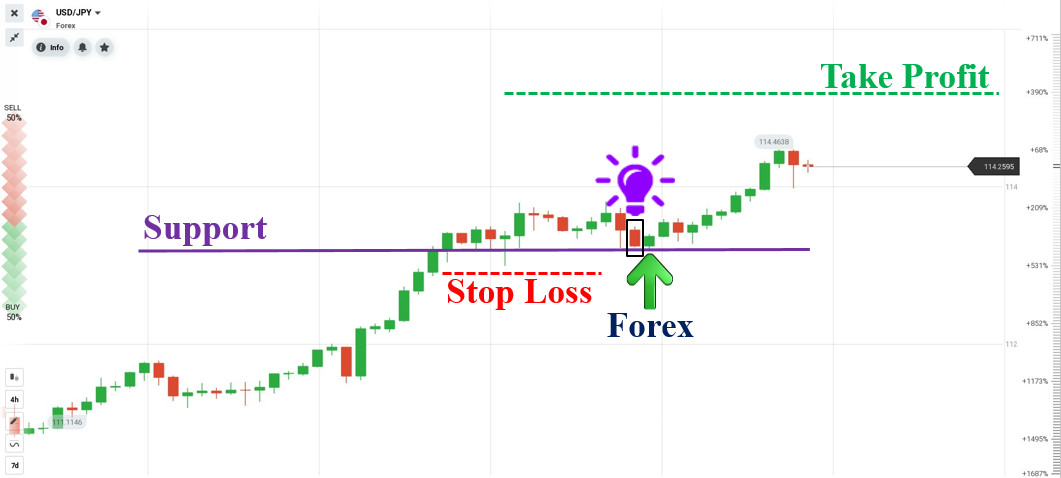 Step 2: Wait for the Forex order to be profitable to trade options
When the price goes in the same direction as I predicted, the Forex order has gained profits now. Next, I switch to options trading with the USD/JPY and place another HIGHER order.
For me, I only use the 5-minute chart and the expiration time is 15 minutes when trading options. The amount for each trade is $15 (equivalent to the amount of Forex profit). With the trend trading strategy, I have 3 options entry points as shown below.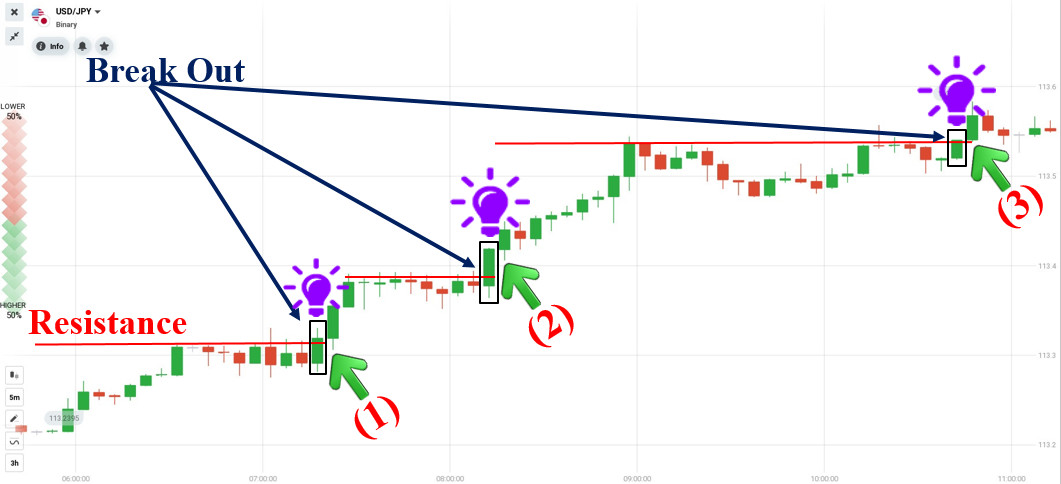 At this step, you should wait patiently for safe HIGHER entry points. You already have profited from your previous Forex trade. So don't be greedy and feel free to wait for the best opportunity to appear.
Step 3: Continue to enter safe HIGHER trading orders
You can base on the trend of the market, or Forex trading orders to open more options orders. Like this example, if the uptrend continues, be confident with the HIGHER order when trading options. On the contrary, when the trend reversal signal appears, it is best to close all orders and leave the market.
And this is the result of options trading in IQ Option when I use the test order.
– Forex: $70.
– Options: 3 wins – $36 profit.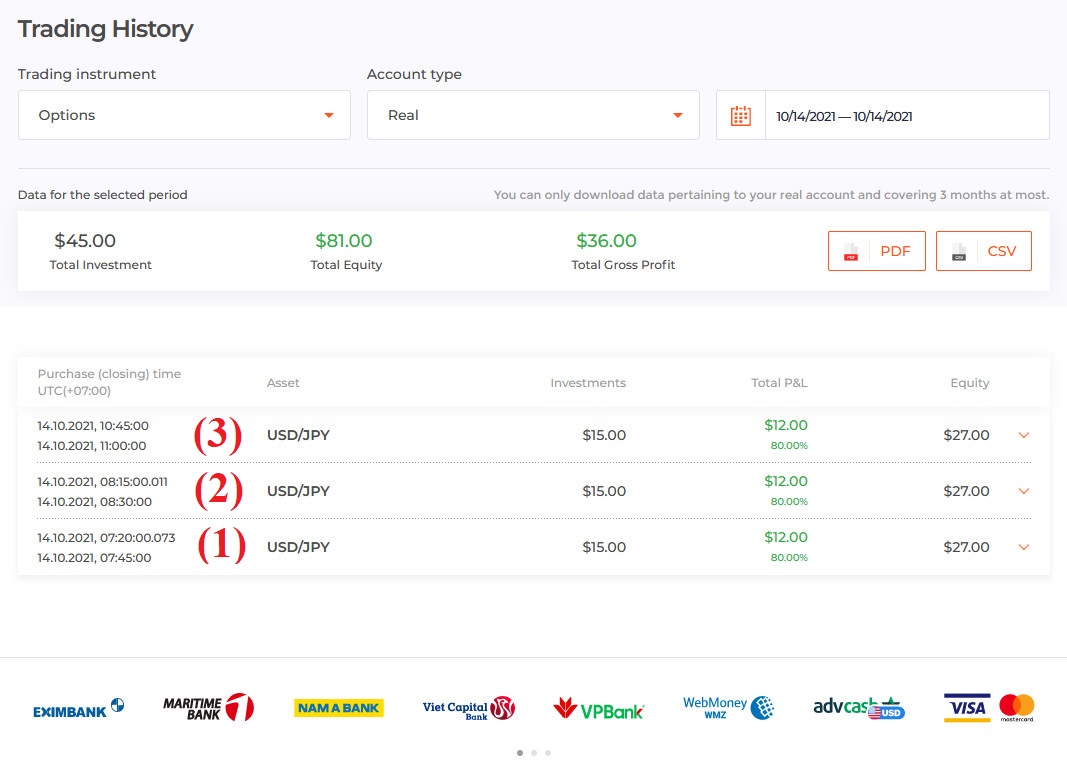 Summary
In my opinion, the key to winning in trading is psychology. If you have great risk-reducing trading plans like the test order I described above, your chances of winning are very high.
Let's find strategies that leave you psychologically free to make the right trading decisions. Good luck and happy trading!!!
Register IQ Option and Get Free $10,000 Risk warning: Your capital might be at risk.

Indonesia

Português

Tiếng Việt

ไทย

العربية

हिन्दी

简体中文

Nederlands

Français

Deutsch

हिन्दी

Italiano

한국어

Melayu

Norsk bokmål

Русский

Español

Svenska

Tamil

Türkçe

Zulu