Indonesia

Português

Tiếng Việt

ไทย
Many of you wonder how to change the trading interface's background at IQ Option? How to hide the amount of money on your own IQ Option account? Or how to make transactions more visible? In this article, IQtradingpro will show you how to customize everything in IQ Option
Change trading interface to keep your cool when trading at IQ Option
IQ Option looks quite simple but the bookmakers have already analyzed your behavior and understood what you think. Therefore, they always create trading interfaces in hot colors to keep your emotions running high. That's why many psychologists have advised traders to use the white technical analysis interface.
And to customize the interface at IQ Option, simply click the gear logo on the bottom of the interface. Settings will be displayed.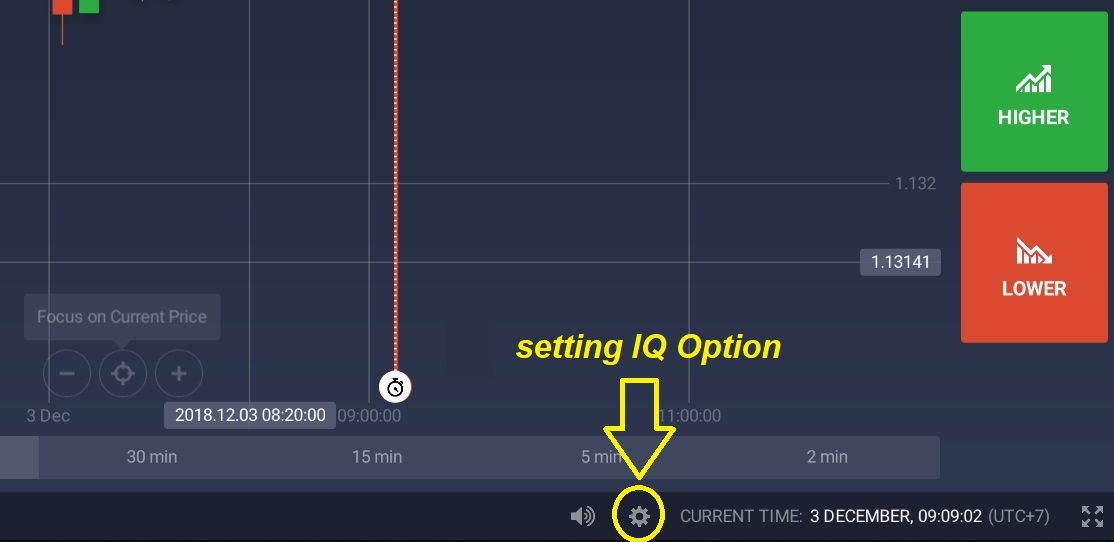 At the first tab – Appearance, you can customize the timezone according to the time of your country. At the same time, you can also switch the trading interface to white or the color you like.

Hide the amount of money on IQ Option interface
Pro traders often prefer to hide their total capital at IQ Option. You can also do the same when showing your account to other people.
On the Appearance tab, scroll to the bottom. Tick ​​the box "Hide account Balance".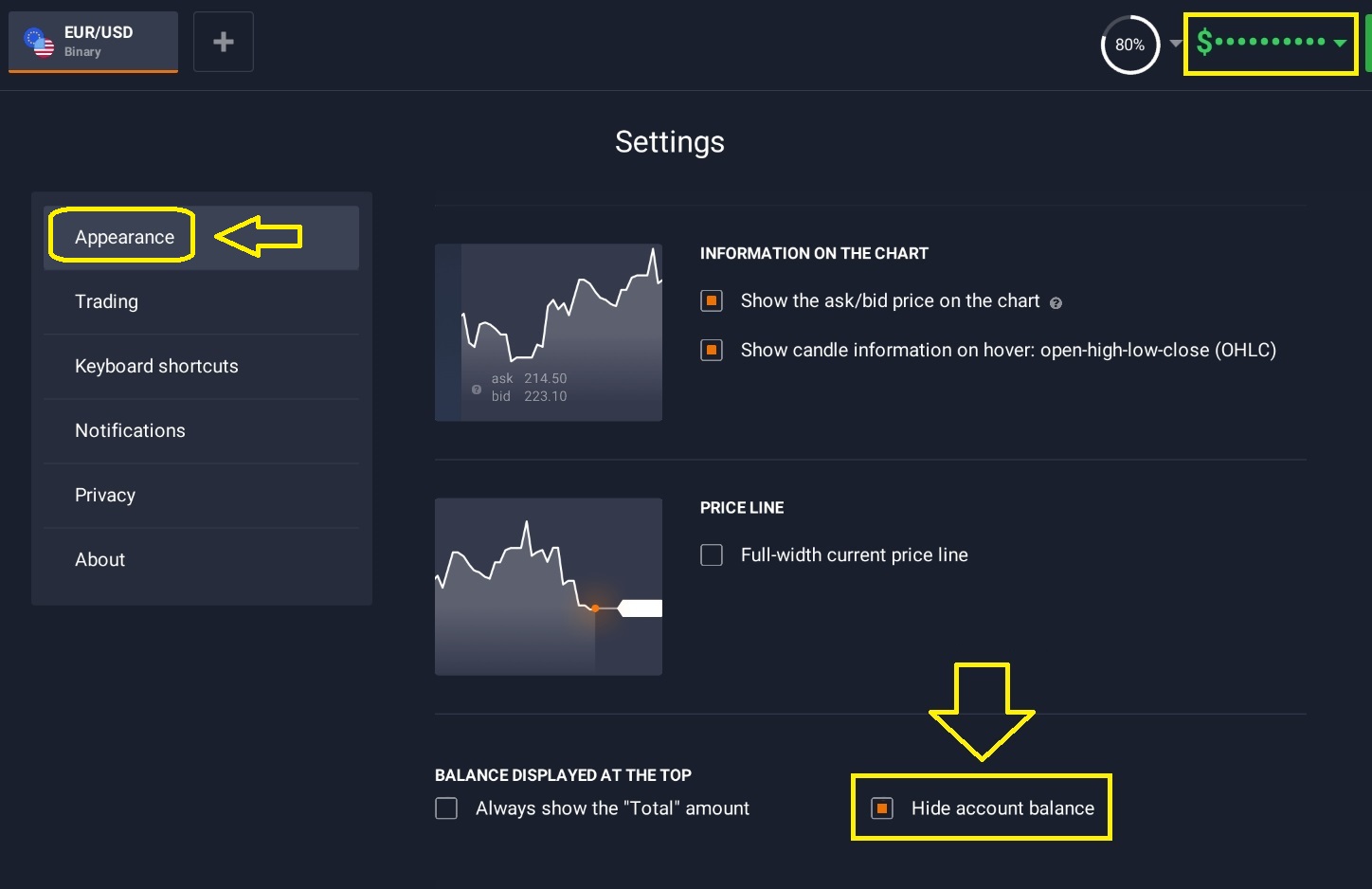 Every time opening an option, you will be moved to a new tab
When you open an option, you are moved to a new tab. This makes it hard for you to keep track of your old options. You can customize it so you can open all options on a single tab at IQ Option. Go to tab Trading then tick the box "New Option in the same tab".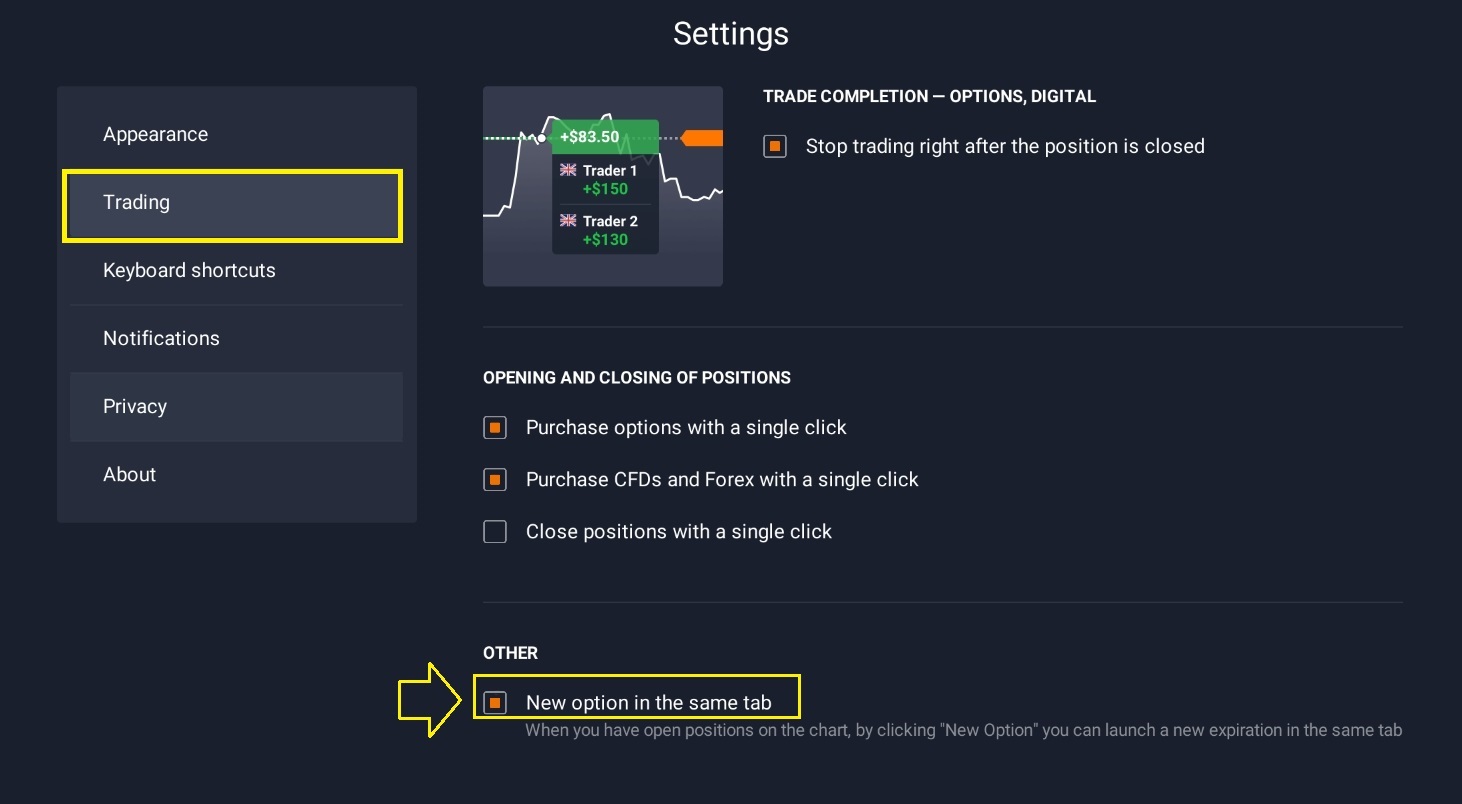 Some other customizations on IQ Option
Hide the purchase amount at IQ Option
This support you more when showing your account. For example, you trade $1 but do not want others to know you only use $1. You can hide the amount by unticking the box "Always show purchase amount on the chart".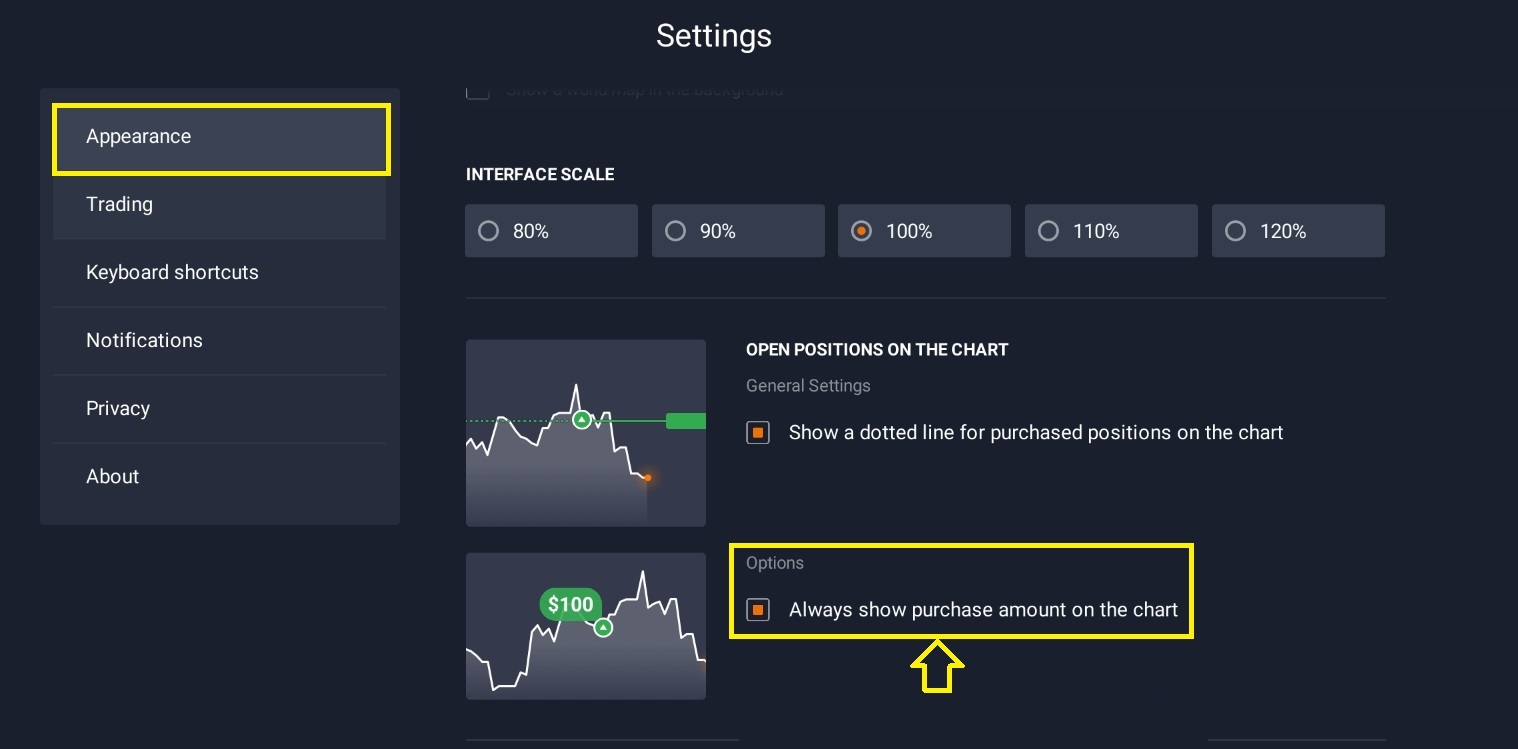 Show who is boss when trading at IQ Option
To be able to assert yourself, you can let other traders know at that period you are the one who opens options with the largest amount of money. Simply tick the box "Show the best trades for the selected expiration period" at Appearance tab.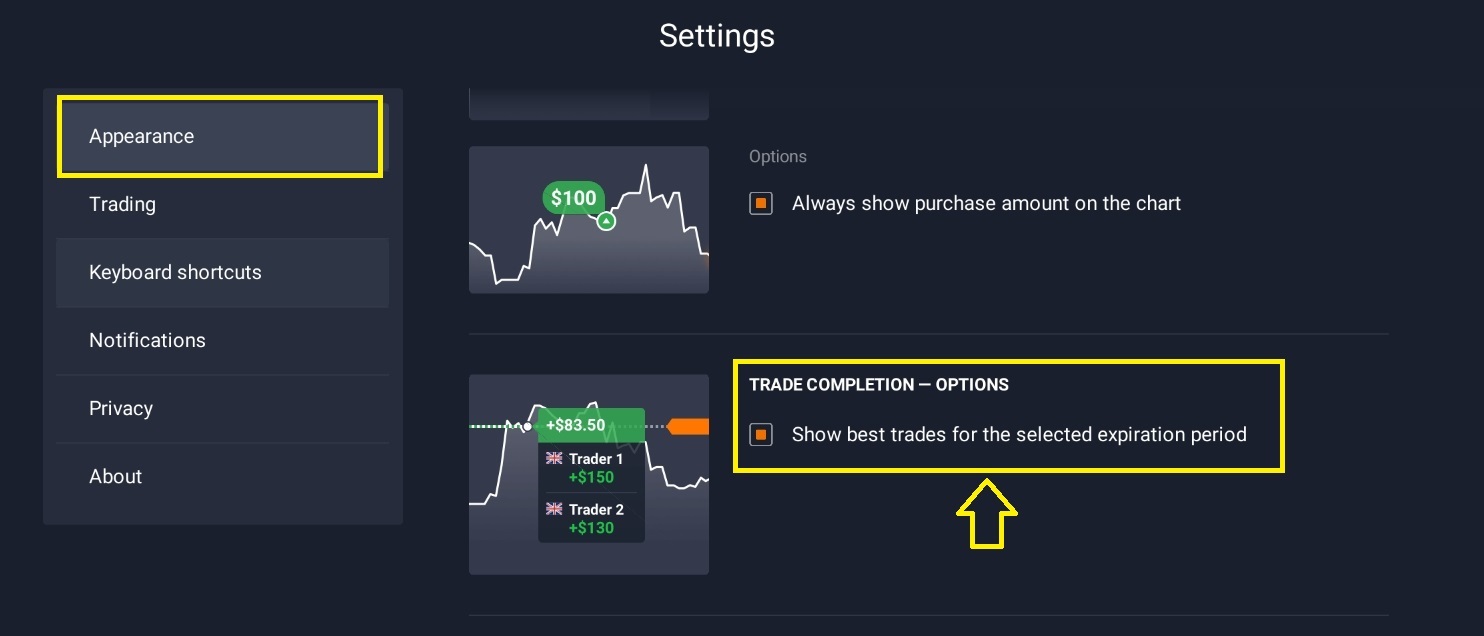 After that, each time 1 option ends, IQ Option will display a comparison for you to know how many people open options at the same time as you. And who has the highest winning amount.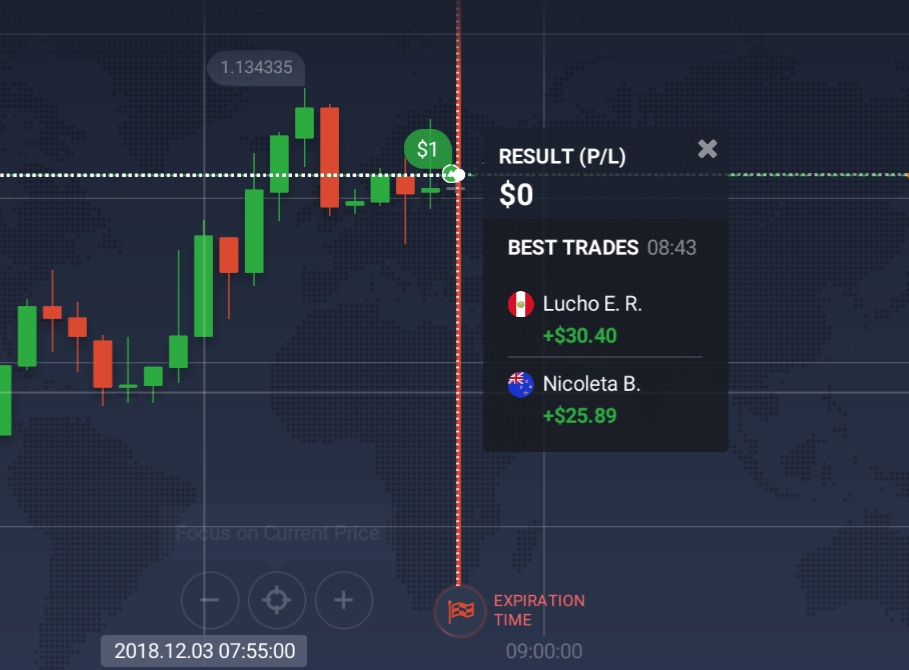 If you have further questions, please leave a comment. IQtradingpro will guide everything you need.
Goodluck!

Indonesia

Português

Tiếng Việt

ไทย